D.C. Alumni Clean Up Friendship House
• October 16, 2006

Share: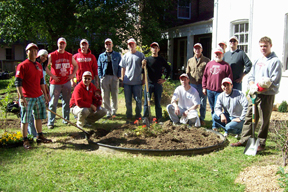 Led by organizer Jefferson Crew '05, a group of about 20 members of the National Capital Association of Wabash Men, family, and friends, mounted a cleanup and restoration effort at Friendship House, Washington, DC's oldest social-services agency, for WABASH Day 2006.
Click here to see a few photos from D.C.
Friendship House Association was formed in 1904 by community volunteers who were concerned about the living conditions and urgent economic needs of their neighbors in the areas surrounding the United States Capitol. They modeled the agency after settlement houses such as Chicago's Hull House, where some staff lived on site and welcomed people from the community into the house for classes, employment training, counseling, day-care and cultural enrichment.
Since 1936, Friendship House has been located in a historic home in southeast Washington, DC, originally called The Maples. Friendship House was built in 1798 (during the Federal Period), by architect-builder William Lovering; Francis Scott Key was one of its several past owners, and George Washington resided there after Washington, DC became the capital in 1790 (which was before the White House was built).
The National Capital Association's WABASH Day team did both inside and outside work at Friendship house. A team including Bert Salinas '97 (President of the National Capital Association), Jim Kelleher '88, Hayden Wetzel '72, and Ben Nguyen '06, painted the formal living room; while a larger group of alumni, including Matt Rarey '00, Chad Smith '89, Ryan Clougherty '02, Chris Anderson '04, Adam Price '88, Denny Whigham '66, Josh Beard '97, Greg Castanias '87, and Gyanu Lamichhane '99, revitalized the play areas and the back yard gardens.
Wabash alumnus Morgan Knull '97 is on the Board of Directors of Friendship House.