Grand Rapids Alums Brave Cold Weather
by Jim Amidon • October 16, 2006

Share:
Twenty (20) souls braved the coldest weather in Michigan this fall to participate in Wabash Day. The project was to assist Camp Blodgett (a camp along Lake Michigan just outside Grand Rapids which provides camping and enrichment experiences for urban youth who are from lower economic circumstances) to repair and build facilities.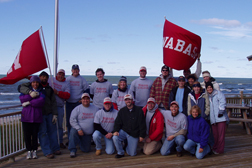 The project included building a deck for outdoor gatherings, building benches and installing them along the nature trail, building wooden trash receptacle containers, repairing the picnic and outdoor tables and benches, repairing the railings to the cabins, and working on the interior and windows of a cabin under renovation.
In addition, as they did last year, The Grand Rapids-area alumni combined this exercise with a picnic gathering for the participants. "The Camp Director, Jim Guilfoyle, was very thankful for our efforts, remarking over and over that he could not believe all that we accomplished and the value it was to the camp as improvements which they simply would not have been able to complete," said organizer Jay Fisher.
Those helping out at Camp Blodgett were: Kevin Brechting (plus 4 members of the Kent City High School Varsity Girls Basketball Team, which Kevin coaches); Kenyatta Brame and his wife, Tracie; Keith Hefner and his wife, Katie; Jay Fisher and his wife, Marty; Paul Toohey; Greg Robinson; Bernie Manker III; Alex Manker; Graham Boyd; Tom Holmes; Ed Cox; and friends of Wabash Nicky Halverson and Scott Kearney.
"We enjoyed it and see it as a valuable Wabash outreach experience as well as an opportunity to get together," said Fisher. "This year we suggested that Wabash Day was for 'Wabash people' not just Wabash alumni and you can see from the wives and others that it was successful in that regard."