Wabash Day Turns Family Day
by Steve Charles • October 14, 2006

Share: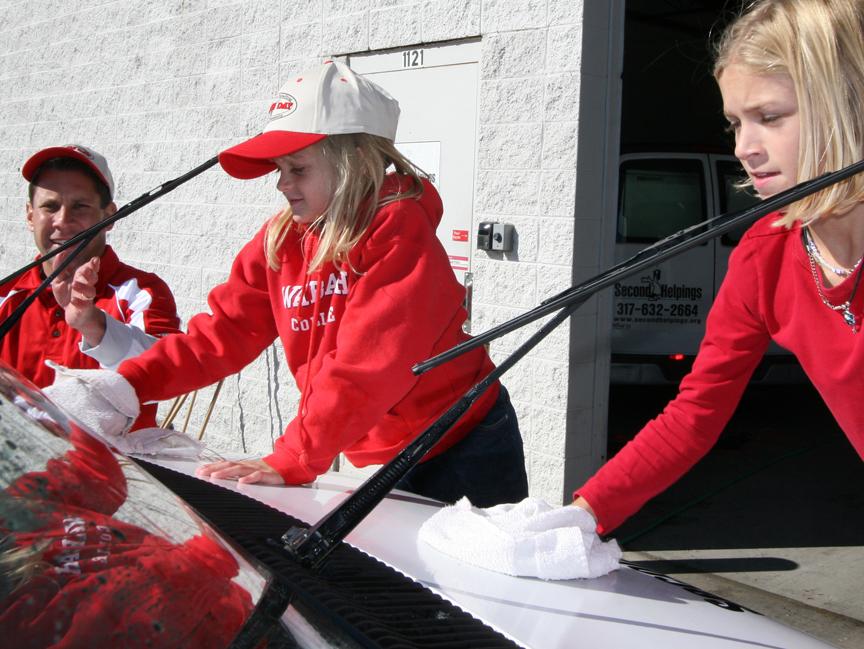 When he first envisioned it in 2005, Jon Pactor '71 saw WABASH Day not only as a time for Wabash men to work together on worthwhile service projects, but also as an opportunity to get their families involved.
"Our guys want to be good fathers, and this is one way to do that while at the same time passing along Wabash values," Pactor said.
And that's just what happened Saturday at one WABASH Day event, as almost as many sons and daughters as dads helped wash vans at the Second Helpings food rescue in Indianapolis. (Click here for photo album.)
"We have such abundance, and we have to teach our kids that they live in a bigger world," said Terry Hamilton '89, whose daughter, Emily, worked alongside him on WABASH Day for the second year running. "This is a great way for them to discover the joy of serving others."
Second Helpings accepts donated perishable and overstocked food from area grocers and prepares nutritious meals for thousands of hungry children and adults every day, distributing them free of charge through local service agencies, Director of Volunteers Nora Spitznogle explained. Before the WABASH Day families began their work, she gave the group a tour through the facility.
"We were all very impressed with the work Second Helpings does," said Pactor. "I can see this day leading to more volunteer opportunities for our alumni and their families in the future."
Spitznogle noted that the day's work of washing the organizations vans and trucks was very helpful.
"This is the sort of thing we need to do but never have the people or time to get around to," the director said. "We really appreciate your help, as well as the encouragement your helping out gives to us."
Youth was also a catalyst at Saturday morning's other WABASH Day event in Indianapolis. (Click here for photo album.)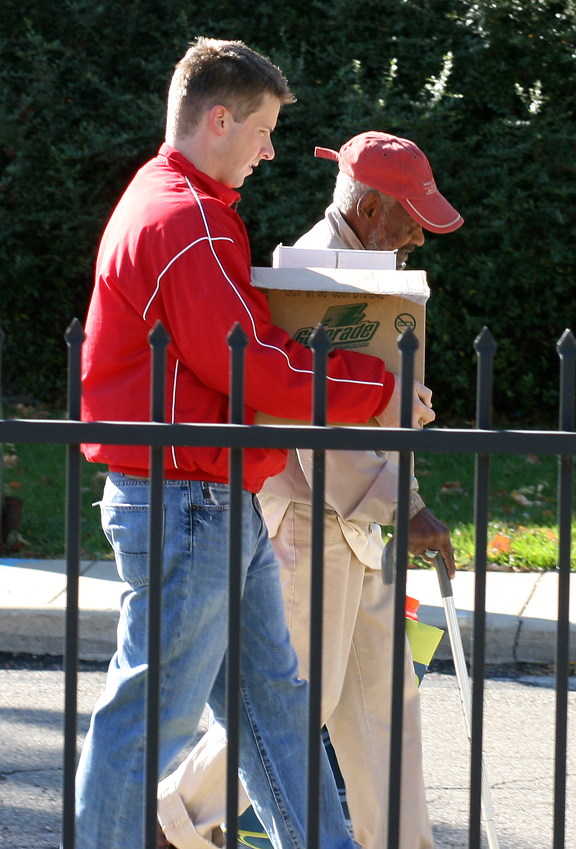 At a food distribution at Trinity Episcopal Church for Gleaner's Food Bank, Wabash workers ranged from Larry Landis '67 and Gary Gunther '69 all the way to Jake Rowland, son of Eric Rowland '86.
But you couldn't help notice the contribution from a large cadre of younger alumni like Kip Chase '04, John Meyer '05, and Seth Zirkle '04. Meyer's fiancee, Kari Finamore, also lent a hand, as did Seth Zirkle's girlfriend, Scarlett Lant.
John Bridge '72 organized the day, inspired when his wife, Cathy, and son, Bart, participated in a Gleaner's food distribution at the church in July. Cathy and Bart were also on hand Saturday.
"They enjoyed the work so much they told John about it," said Gleaner's Major Gifts and Operations Manager Robert Wilson, who also serves with Bridge on the Trinity outreach board.
The loss of tens of thousands of manufacturing jobs has left an ever-increasing number of Indiana families in need of food assistance, Wilson said.
In central Indiana, more than 200,000 people—almost half of them children or elderly—need food assistance weekly. Gleaner's solicits food from food manufacturers, retailers, and individuals in an attempt to serve this growing need. On Saturday, 22 Wabash men and their families distributed food to about 220 people.





Pictured (top): Jim Kerr '92 and daughters Kaylee and Courtney; (bottom) Kip Chase '04 carries groceries home for a Gleaner's client.