WABASH Day Weekend Provided Services to Many
by Jim Amidon • October 14, 2006

Share:
When National Association of Wabash Men Board Member Jon Pactor '71 conceived the idea of a nationwide day of community service, the obvious acronym that came to him was "WABASH Day," short for Wabash Alumni Benefiting And Serving Humanity. Now in its second year, WABASH Day weekend involves more than 30 alumni group projects around the country.
Most of the weekend's community service efforts were scheduled for Saturday, though some alumni groups, like Lafayette, Indiana, chose to do projects on Saturday (Habitat for Humanity) and Sunday (blood drive).
In Crawfordsville, the Sugar Creek Association of Wabash Men braved chilly morning temperatures in the high 20s when about a dozen alumni joined Hose Elementary School Principal John Tidd for a PTO project. Crawfordsville Schools employee Clyde Rager managed the bobcat, but alumni did the hard work of spreading, raking, and shaping an 1,100-foot walking trail around the school's playground. Starting with 160,000 pounds of gravel, the Sugar Creek alums made short work of it, finishing the trail in less than three hours.
When there was nothing left to do but sweep up gravel dust, many alumni headed for a local little league field to clean and spruce up the park prior to winter.
On the north side of Chicago Wabash men worked on a habitat restoration project at St. Francis Woods in the Independence Grove Forest Preserve at Libertyville, Il.
In Bloomington, Wabash men worked at the Middle Way House, click here for photo album.
In Colorado, alumnus John Panozzo led a group working at the Karlis Family Center. See Denver photo album here.
Evansville alumni landscaped and laid 20,000 square feet of sod at the memorial park dedicated to the 22 people who died in the 2005 tornado that ripped through southern Indiana. See photo here.
Grand Rapids hoped 25 alumni and family members would help at Camp Blodgett, a summer camp for urban youth. Click here to see photos from Grand Rapids.
To see a complete list of WABASH Day sites and projects, click here.
To see a photo album from the Sugar Creek Alumni Associations' work, click here.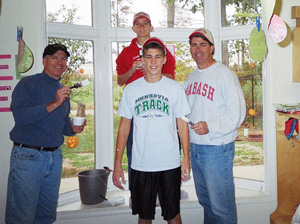 For stories and photo albums from WABASH Day in Indianapolis, click here.
Wabash Day was a two-day event in Indianapolis. A group of alums tackled chores at The Villages Sunday. The site is near Decatur High School. The Villages is an incredible agency that assists abused children. Linda Adams, wife of Skip Adams '71, is its director of development.
In top photos:At lower left: Joe Pfennig '82, Kevin Benefiel '81, Cory (in front) and Grant (in back) - Kevin's sons. Benefiels'oldest son, Ty, is a Wabash junior.