Charles, Miller, Munson Honored at Alumni Chapel
by Jim Amidon • October 7, 2006

Share:
Three Wabash College alumni — living in Colorado, North Carolina, and right here in Crawfordsville — were honored at Saturday's Homecoming Alumni Chapel. Bob Charles '59, Eric Munson '65, and Greg Miller '83 received Alumni Awards of Merit, the highest honor the National Association of Wabash Men can bestow on alumni.
Jay Fisher '66, president of the NAWM Board of Directors, served as master of ceremonies for the Chapel. He read the following citations for the College's honored alumni:
Robert F. Charles, Jr. '59 — James Urbaska Civic Service Award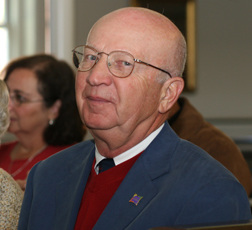 Robert F. "Bob" Charles, we're honored by your presence and pleased that you have returned to your alma mater for this Homecoming weekend. Since your graduation in 1959, you have continued to pursue education and innovation. You have contributed mightily to this College, to your business community, and to your home state of Colorado. In fact, you could be standing here today to receive any of our three Alumni Awards of Merit. You have contributed to Wabash financially and through your service on the Board of Directors of the National Association of Wabash Men. In that capacity, you worked along side alumni director Bob Mitchum to think of new ways to connect Wabash and its alumni.
In the mid-60s, you left your career as an agronomist at a chemical company to return to Illinois, where you began what would become a truly impressive career as a McDonald's restaurant franchisee. McDonald's credits you — the "Burger Baron of Boulder County" — for its Happy Meal and two-lane drive innovations; at one time you owned 11 McDonald's franchises in Colorado.
Today, though, we honor you with the James Urbaska Civic Service Award for all you have meant to the city of Boulder and the state of Colorado, which you have strengthened through your active involvement and philanthropy. In the course of your life, you have served on boards or directed Junior Achievement of Boulder; the Boulder Chamber of Commerce; the Boulder County Red Cross; the Rocky Mountain Advertising Association; the Boulder YMCA; the Boulder Parks and Recreation Board; St. Andrews Presbyterian Church; and the Wasatch Academy, to name only a few.
In addition to your support of Wabash and the University of Arizona, where you received your master's degree, you have been steadfast in your devotion to the University of Colorado, which honored you with the Gold Medal for Outstanding Service to the University, the Leeds School of Business Distinguished Service Award and the Dean's Award for Entrepreneurial Excellence. You served Colorado-Boulder on its Center for Entrepreneurship Advisory Board and your donations to the B&J Enterprise Scholarship provide opportunities for generations of entrepreneurs to come. On the 15th anniversary of the Boulder Community Foundation, you were honored with the Stan Black Award for your efforts in founding the Boulder Memorial Hospital Foundation, the Boulder Economic Council, and the Imagine! Foundation. Bob Charles, Wabash hopes to educate its students to think critically, act responsibly, lead effectively, and live humanely, characteristics you've modeled every day of your life. The National Association of Wabash Men is proud to present you with the James Urbaska Civic Service Award.
Gregory Hoyt Miller '83 — Frank W. Misch Alumni Service Award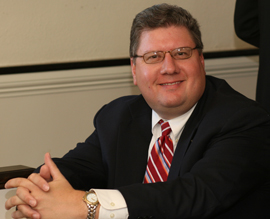 On this day when we're proud to welcome back to Wabash our distant alumni, we're especially glad that you, Gregory Hoyt Miller, haven't strayed far from home. For had you gone off to practice law anywhere else, Wabash College and the city of Crawfordsville would be lesser places.
When not bass fishing at Raccoon Lake, you majored in political science and won the Benjamin A. Rogge prize for the best essay in political economics. After earning your law degree from the University of Dayton, you made your home in Montgomery County and began practicing law at Wernle Ristine & Ayers. At a time when community leaders are scarce, your life is at once a model of Wabash's mission statement for our students and a shining example of civic engagement.
You have shown responsible leadership as past-president of the Rotary Club, the Montgomery County Bar Association, and Child Protection Team. If there's an organization in Montgomery County that needs assistance, you have been there to help. You also have served your community as judge of the Crawfordsville City Court and judge pro-tem of the Montgomery County Circuit and Superior Courts. You opened your own private law practice in 2000, specializing in business and corporate law, banking, collections, and civil litigations. Wabash is glad to have you on OUR side! In fact, many Little Giants believe you went into solo practice just so you could give more of your time to Wabash College. You consistently have been a model Class Agent and lead the Society of Class Agents as a member of the Executive Committee, and you were elected to serve two terms on the Board of Directors of the National Association of Wabash Men.
You have been an active leader of the Sugar Creek Association of Wabash Men since its inception. You have served your fraternity, Phi Gamma Delta, as a member of the Board of Chapter Advisors and as President of the Phi Gamma Delta Housing Corporation. It is in that capacity that your leadership in the planning and construction of the new Psi Chapter House has been invaluable. And through all your involvement with Phi Gamma Delta, the Class of 1983, and Montgomery County, you have found time to be wise counsel for the administrative leadership of the College. Today, it is with great pride that the National Association of Wabash Men holds you up — Gregory Hoyt Miller — as an extraordinary recipient of the Frank W. Misch Alumni Service Award.
Eric B. Munson '65 — Clarence Jackson Career Service Award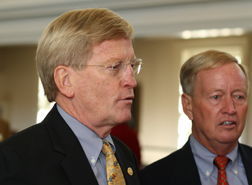 Eric B. Munson, though you've gone from Little Giant to die-hard Tar Heel, we are pleased to welcome you home to your alma mater. After a successful career at Wabash, where you played baseball and football and sang in the Glee Club, you earned a master's degree in hospital administration from the University of Chicago School of Business. Just as your career as a top-flight hospital administrator was taking off, you shipped off with the Navy during the height of the Vietnam War. Over the course of two years, you spent time as an administrator at the National Naval Medical Center in Bethesda and the Navy's hospitals at Camp Pendleton and in Agana, Guam.
Upon your return stateside, you began a career that would take you to the top of your professional vocation. Beginning in 1970, you served as assistant director for the University of Chicago Hospitals and chief administrator of Wyler Children's Hospital. You would move on to another major research hospital, the University of Colorado's Colorado General Hospital, in 1973. In just four years you rose to chief operating office of the largest teaching hospital in Colorado, and two years later you were named CEO.
After a short stint as CEO and President of Rex Healthcare — at age 36 — you were named general director, president, and CEO of the University of North Carolina Hospitals. As the CEO, you oversaw the establishment of three additional hospitals within the UNC system, a system comprising 5,000 employees and an annual budget of nearly $600 million. Among your accomplishments are the establishment of the N.C. Jaycee Burn Center, the UNC Ambulatory Care Center, the N.C. Neurosciences Hospital, the N.C. Children's Hospital, and the N.C. Women's Hospital, all of which is now simply UNC Hospitals, for which you serve as President Emeritus.
You think critically: Your professional affiliations are too numerous to mention here, but range from administration to education and from legislation to medical insurance. You act responsibly and lead effectively: Your commitment to your community is evidenced in everything from your kids' school PTA to the Chapel Hill Chamber of Commerce. And you live humanely: You have given extraordinary amounts of your time to causes such as Juvenile Diabetes, the United Way, University Presbyterian Church, and the Chapel Hill Adopt-A-School program. Your long service to UNC was honored in 2004 with the dedication of the Eric B. Munson Concourse at the N.C. Children's Hospital in Chapel Hill, a most fitting tribute. Eric B. Munson, for a lifetime of thoughtful leadership in times of sweeping changes in healthcare administration, the National Association of Wabash Men is proud to present you with the Clarence Jackson Career Service Award.