Russell's Four TDs Too Much for Allegheny on Homecoming
by Howard Hewitt • October 7, 2006

Share:
Mike Russell's career-high four touchdowns, six catches, and 141 yards were too much for Allegheny (3-2). The Little Giants (4-1) head to Wittenberg next after a 41-27 Homecoming win.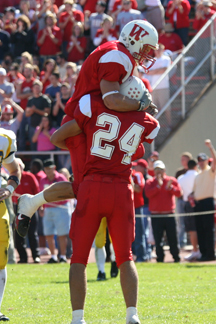 Russell, a junior wide receiver, caught touchdown three passes from quarterback Dustin Huff and opened scoring on a 16-yard halfback pass from Billy King.
See a full photo album by clicking here. Hear Coach Chris Creighton's comments about the game and see another 40 photos on Soundslides.
"Huff was throwing the ball great in the first half," Russell said. "He was throwing the ball perfectly. And Billy's was right on the spot, anywhere else and their safety would have got to it."
The Little Giants needed Russell's amazing performance. After building a 28-7 halftime lead and then upping the count to 35-7 on an Andrew Rode 32-yard touchdown catch from Huff, the Gators showed some resiliency.
Quarterback Jimmy Savage hit on scoring passes of 11 and 9 yards to Jake Vite, then found standout back Mario Tarquinio for 16 yards to pull within a touchdown, 35-27.
Allegheny held the Little Giants to a three and out and looked to tie the game up. But after picking up a first down and 10 yards, Frank Knez intercepted a Savage pass to set up Wabash's final score, which would secure the win. Huff found Russell breaking open for the fourth time on the afternoon, and the junior speedster raced for a 36-yard score.
"Things just worked out," Russell said. "I try to catch the ball every time it's thrown to me and I try to make a play after that. It's amazing how everything worked out for me today."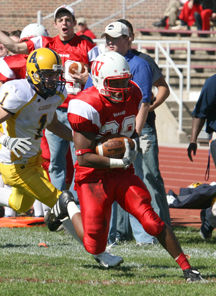 The Gators actually won much of the statistical battle including time-of-possession and total offense, 477-376. Wabash rushed for 128 yards to Allegheny's 108. Savage threw for 400 yards on 38-of-58 passing to Huff's 255 on 19-of-27.

Wabash built its big halftime lead on Russell's first score then 25 and 39 yard Huff-to-Russell connections in the second quarter. Huff found Ray Green from 11 yards out to build the halftime margin.

Wabash's special teams had a big day blocking two kicks, recorded by Richard Roomes and Thomas Bell. The defense was led by Adi Pynenberg's 13 tackles. Matt Kraft added 10 stops with Richard Lehmann recording nine and Andy Deig notching seven. Chad Peterman and Wes Anderson each had six stops.

The Little Giants now head to Wittenberg for what could be a big NCAC showdown in Springfield next Saturday.

"This is good confidence builder for us," Russell said. "The second half was an awakening for us because it's not going to come automatically and it's not going to be easy. We need to play hard in the fourth quarter and we need to be ready."




Results: Wabash 41, Allegheny 27