Guitarist Says Hootie and Blowfish "Sneaky Long"
by Wade Coggeshall • September 29, 2006

Share:
Having the 12th-best selling album in music business history looks good on a resume. But such success can also carry its share of burden.
Whereas other artists may have cracked under such pressure, Hootie & The Blowfish enjoyed its time on top, then went right back to doing what it always did.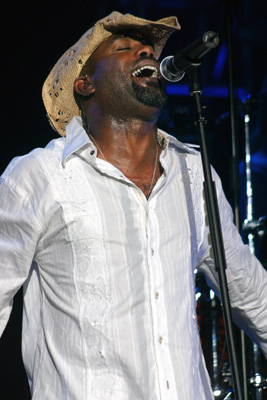 The Charleston, S.C., quartet plays 9 p.m. Oct. 7 at Wabash College's Chadwick Court.
The members of Hootie (guitarist/vocalist Darius Rucker, guitarist Mark Bryan, bassist Dean Felber and drummer Jim "Soni" Sonefeld) lived in the same dorm as freshmen at the University of South Carolina. Rucker and Bryan, both broadcast journalism majors, came to know each other well, and began playing acoustic shows together. Eventually the band gelled, taking its tag from the nicknames of two college buddies, and started playing weekend gigs.
"The band, when we were in school, was just for fun," said Bryan during a Sept. 28 phone interview. "We'd play on the weekends, and it was all covers. We didn't have to worry about balancing. We just did it whenever we felt like it. Studies were a priority at that time. Once we graduated we started taking the band more seriously, and began writing our own material and touring."
The group's mix of pop, folk, blues and rock slowly won over audiences in its home state, and later the East Coast. Their debut, "Cracked Rear View," had been out six months when they made their first appearance on the "Late Show with David Letterman."
All it took was for Letterman to say, "If you don't have this album, there's something wrong with you" for the floodgates to open.
"We went from selling like 5,000 records a week to 16,000 or 17,000 a week," Bryan said after Hootie's first appearance on national TV. "It just kept going up from there. It was sort of a juggernaut."
"Cracked Rear View" went on to sell some 10 million copies in 1996. Since its release in 1994, it's sold more than 25 million units worldwide. At the height of its popularity, it seemed impossible to avoid the Hootie phenomenon. Contrary to popular belief, even though it was the band's first album, Hootie had already been a professional act for the previous decade.
"I just kind of stopped listening," Bryan said of the "Cracked Rear View" mania. "I tuned out all the hype. We'd been doing the same thing for 10 years before that. Now everybody else is catching on. To be honest we were writing 'Fairweather Johnson' (their second album) in the middle of the hype surrounding 'Cracked Rear View.' We had already moved on.
"We did a pretty good job of tuning out the hype. That's not to say we didn't enjoy it and that we weren't flabbergasted by it. We just tried not to let it get to our heads. We had to keep our focus on what we'd been doing all along. That was making good albums and playing good live shows."
"Fairweather Johnson" and its follow-up, "Musical Chairs," continued Hootie's platinum success. But their sales were nowhere near that of "Cracked Rear View."
"We knew 'Cracked Rear View' was an anomaly," Bryan said. "We didn't have expectations of ever selling 16 million of anything again. Only like 20 albums all-time have done that."
In fact, other than not being played every five minutes on the radio, little has changed for Hootie & The Blowfish. The group still plays outdoor amphitheaters in the summer, and clubs and theaters in the off-season. Bryan said it's safe to say they've found their own comfortable niche in the music business.
"It's our bread and butter," he said. "If we can sell albums, great. From a song-writing standpoint, we feel like we still have a lot to give. As we mature, the subject matter becomes more mature. We've always been a positive band. Hopefully our message helps people or affects them."
They're also taking more control over their careers. After leaving Atlantic Records in 2004, they started their own imprint, Sneaky Long Records, and issued the CD "Looking For Lucky" last year. A distribution deal was signed with Vanguard. In August the CD/DVD combo "LIVE in Charleston, The Homegrown Concert Event," was released.
Sneaky Long is a "sports term for somebody, say a small guy who you wouldn't think could hit a golf ball 300 yards, then he does it, so he's sneaky long," Bryan said. "It's got many levels of meaning. We feel our band is sneaky long. We're still here 20 years later."

Coggeshall is a reporter for the Crawfordsville Journal Review.

Editor's Note: A Bachelor reporter also interviewed Bryan Sept. 28, that preview will appear in the Oct. 6 student newspaper.