Little Giants Open NCAC Season With Win Over OWU
by Howard W. Hewitt • September 23, 2006

Share:
Football coaches, fans and media like to talk about turning points in games and those specifics are often debatable. But an arguably wild 1:20 of the third quarter propelled Wabash to a 42-28 win over Ohio Wesleyan Saturday in both teams' NCAC season opener.
Ohio Wesleyan, trailing just 14-7, drove the ball 35 yards on 8 plays to open the second half. But Steve Hymes' fumble, recovered by Little Giant Matt Kraft gave Wabash the ball. (See game photo album by clicking here.)
Wabash (2-1) drove the ball 63 yards culminating in a Dustin Huff to Graham Nelson 9-yard touchdown, 21-7. Seemingly, the Little Giants seized control of the game.
Not so fast. Nick Rice took the following kickoff 95 yards to get the seven points right back for the Battling Bishops. Huff then answered just as quickly in a two-play drive scoring on a pass to Mike Russell for 47 yards, 28-14. (Hear Coach Chris Creighton's comments about the game and see more photos here.)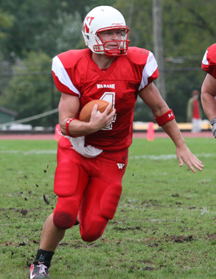 Huff had a monster day in his third start of the year and fifth in his career. He threw for five touchdowns on 22-28 passing for 416 yards. Not stopping there he also had a 12-yard touchdown run in the first quarter.
"Statistics aren't a big thing," he said. "The win is the thing and the scoreboard says 42-28. They were 0-3 but they're a really good team; their record just doesn't show it. It's a good win. It's a conference win. You have to win or go home in the conference and this is where it all starts. Now we just have to focus on Earlham (next week)."
It wasn't just Huff piling up big offensive numbers Saturday. The offense put together a 579-yard day. The Little Giants enjoyed their best rushing day of the young season, amassing 176 yards. Billy King ran for 74 to lead six ball carriers.
The receiving corps enjoyed another huge game thanks to Huff's hot hand. Mike Russell had six catches for 127 yards and a score. Geoff Walker hauled in 7 passes for 96 yards and a TD. Graham Nelson caught just three passes for 45 yards, but two went for touchdowns.
Ray Green enjoyed the most efficiency of any receiver. He caught just one pass, but it was on the second play of the game and went for 78 yards and a score.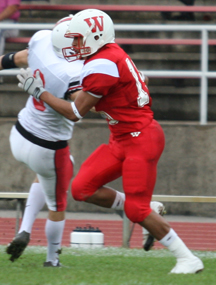 "We just had a good call," the speedy junior said. "We thought we could get them in a zone and we had a good route. Huff threw a good ball and that was it from there. It was supposed to be nice, and it just got better and better."

OWU scored to open the fourth quarter but back-to-back Little Giant touchdowns secured the win. Huff hit Geoff Walker from 21 yards out then with just 5:44 to play hit Graham Nelson for a 22-yard TD, 42-21. The Bishops added a final TD with less than two minutes to play.

Adrian Pynenberg again led Wabash in tackles with 10. Matt Kraft and Frank Knez contributed nine and eight, respectively; Kraft had a fumble recovery and an interception. Andy Deig and Josh Gangloff were credited with seven tackles apiece.

In photos: Above left, Huff takes off on a run. He gained 46 yards rushing to go with his 416 through the air. Lower right, Ray Greene on his first quarter touchdown run.




Results: Wabash 42, Ohio Wesleyan 28 Game Stats