Wabash Welcomes You to Homecoming Weekend October 5-7
by Karen Handley • September 22, 2006

Share:
Wabash College's Homecoming week got underway Thursday with one of its oldest and most cherished traditions, Chapel Sing.
Under cloudy skies and cool temperatures Wabash College freshmen went through the annual rite of passage proving they know the words to "Old Wabash" to members of the Sphinx Club.
We have lots of pictures in three different albums and a Soundslides presentation of more photos and a chance to listen in to this great old Wabash ritual. Photo Album No. 1, Photo Album No. 2. The Bachelor is blessed with three great photographers this year, take a look at some of their work on chapel sing in the Bachelor Photo Album.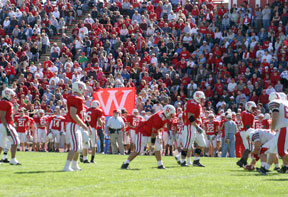 Friday's events include:
• All day—Sculptor Leah Hardy exhibits her show, "Ceramic Constructions," which continues through October 11. Gallery hours are Monday through Friday from 9 a.m. to 5 p.m. and on Saturday from 10 a.m. to 2 p.m. The gallery is free and open to the public.
• 5:00 p.m.—Benjamin A. Rogge Memorial Lecture, Salter Hall, Fine Arts Center. Listen to 1993 Nobel Laureate in Economics Douglass North present the 2006 Rogge Lecture. Free and open to the public.
• 6:30-8:00 p.m.—Welcome Reception, International Hall, Detchon Center. Meet Wabash's new President, Pat White; the new Dean of the College, Gary Phillips; and the new Chief Financial Officer, Larry Griffith.
Saturday's events include:
• All day—The annual freshman decorations will be on display at fraternity houses and Martindale Hall all day. The fraternities will have floats, banners, and other homecoming ornamentation at their houses. Winners will be announced at halftime of the football game.
• 9:30 a.m.—Community Discussion: Conflict in the Middle East- Lovell Lecture Room, Baxter Hall. Join Wabash professors Melissa Butler, Kay Widows, and Bill Placher '70 in an open forum.
• 11:00 a.m. —Alumni Chapel, Pioneer Chapel. Join the National Association of Wabash Men for a festive celebration of Wabash College and its honored graduates. A number of alumni awards will also be presented. Those being presented with awards are: Robert F. Charles, Jr. '59, Fredrick J. Urbaska Civic Service Award; Gregory H. Miller '83, Frank W. Misch Alumni Service Award; Eric B. Munson '65, Clarence A. Jackson Career Service Award; James K. Olberding, Honorary Alumnus; J. Lee McNeely '62, Alumni Admissions Fellow; Andrew J. Starrett '98, Alumni Admissions Fellow. The Alumni Chapel is free and open to the public.
• 11:00 a.m.—Wabash Soccer vs. Hiram College, Mud Hollow Field. Free and open to the public.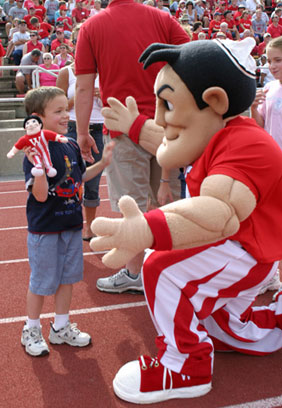 • 2:00 p.m.—Wabash Football vs. Allegheny College, Hollett Little Giant Stadium. The Little Giants, coached by Chris Creighton, will clash with the Allegheny Gators. The game features not only a good contest between the two schools, but also the fraternity pledge class cheer contest at halftime. Game tickets are $5 adults, $3 students, kids under 6 free. Available at the gates.
• 8:00 p.m.—The Homecoming Concert, Salter Hall, Fine Arts Center, located on Grant Avenue. The Music Department invites you to join the Wamidan World Music Ensemble, Brass Ensemble, Jazz Band, and Glee Club for a varied program of fine music. Free and open to the public.
• 8:00 p.m.—National Act presents Hootie and the Blowfish, Chadwick Court, Allen Athletic Center. Tickets for the public will become available on Monday, September 25 through October 6 on weekdays in the Allen Center Lobby between 12:30 p.m. and 1:30 p.m. or in the Box Office of the Fine Arts Center at same price. Chadwick Court will open at 7 p.m. An opening act is scheduled to perform at 8 p.m., and Hootie and the Blowfish is set to take stage at 9 p.m.
For a complete list of events visit Wabash College Web Calendar at www.wabash.edu/calendar. For further information about the weekend, please contact the Office of Public Affairs at 765-361-6396 or the Office of Alumni Affairs at 765-361-6369.
For more information see: