IAWM Welcomes Pat and Chris White
by Tom Runge • September 15, 2006

Share: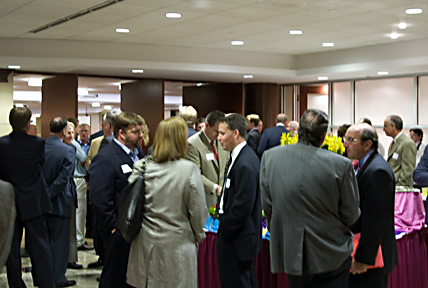 The Indianapolis Association of Wabash Men (IAWM) officially welcomed President Pat and Chris White to Indianapolis Thursday evening, September 14, 2006. The IAWM-sponsored reception was held in the auditorium of the Indianapolis law firm Barnes and Thornburg in downtown Indianapolis.
A large crowd greeted the Whites and provided a warm, Wabash welcome. IAWM board member Tim Oliver '91 served as the evening's emcee. Tim introduced President White noting that Tim felt Pat had really grasped the essence of Wabash in the few short months he'd been on campus.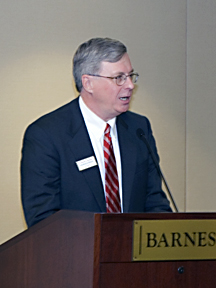 President White told the crowd that he and Chris were excited about being a part of the Wabash community. He went on to say that he found Wabash students to be outstanding young men of integrity and he fervently believes Wabash educates young men to go out and change the world. The challenge ahead, Pat noted, is to continue the effort to become better each and every day.
Many thanks go to Paul Jefferson '92 and Bob Grand '78, both members of the Barnes and Thornburg firm, for their support of the event. Thanks as well to Tim Oliver '91, the evening organizer and emcee, and to David Waldman '93, the current IAWM board president.
For more photos, click here.
Top photo: a large crowd gathered to meet the Whites
Photo at right: President Pat White thanks the group for the warm reception.