Franklin Upsets Wabash in Little Giants' Season Opener
by Howard W. Hewitt • September 9, 2006

Share:
Franklin, Ind. – Great teams overcome adversity. The Wabash College Little Giants reached for greatness in the second half here Saturday but fell short to Franklin College in overtime, 45-38.
Battling back most of the second half, Wabash came from two touchdowns down in the final quarter to tie the game at 38-all with just 39 seconds to play. Franklin took the ensuing squib kick to near mid-field but garnered an extra 15 yards on a Wabash unnecessary roughness penalty. See full photo album, click here. (Jim Amidon photos)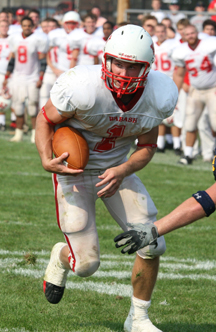 The game's tide seemed to turn finally to the Little Giants with only seconds to play. Franklin was set for a game-winning field goal attempt that was blocked at the 35 by Bobby Kimp.
The Grizzlies took the ball at the 25 in overtime and scored in six plays on a 6-yard pass from Chad Rupp to John Cunningham. The Little Giants couldn't find the end zone in seven plays.
"Greatness doesn't happen easily," Wabash coach Chris Creighton said. "That's our deal; we want to become great I'm not a pessimist; I don't want to sit in there with our team and say really bad things are going to happen. To be great the way we want to be great we're going to have to overcome some adversity. So now we have a great opportunity."
The Little Giants had plenty of opportunity early on under bright sunny skies at Red Faught Stadium. Wabash took the opening kick and marched 67 yards on 10 plays. Little Giant quarterback Dustin Huff was intercepted in the end zone from just four yards out to end the threat.
Wabash got on the board first, opening the second quarter, with a 23-yard Chad Finley field goal. But Machy Magdalinos matched the effort from 40 on the next possession to knot things up.
Much of the first quarter was played deep in Grizzly territory, but Wabash couldn't capitalize. The little Giants finally got into the end zone on a Geoff Walker 11-yard catch of a Huff pass at 3:51 for a 10-3 edge.
But then Franklin took over scoring twice before the half. R.J. Hartsfield ran one in from 46 yards out then just before half Cunningham caught a 34 yard pass to leave the Little Giant defense stunned and trailing, 17-10
"Our defense didn't stop them early on because our offense didn't score, Creighton said. "We knew this was going to be a game of momentum. We get the ball and go down there but we didn't score, we didn't get a field goal. We did that twice I think and our defense was playing. Had we punched it in and scored I think it could have been a different game defensively."
To make matters worse, Franklin scored on its first second-half possession following a Danny Sears kick return. Kevin Lynch caught a 12-yard pass that really put Wabash's defense on its heals.
Sears kickoff efforts, particularly in the second half consistently gave Franklin outstanding field position. Franklin had 7 kick returns in the game for 175 yards.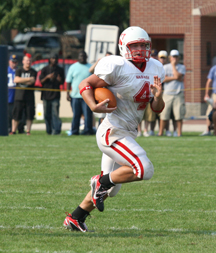 "I coach three guys on the kickoff team and they're the three guys on the right hand side," Creighton said of Sears' three big kick returns. "Those guys are supposed to make a tackle on No. 2 (Sears) when he runs up through there. Hey he's dynamite. We just didn't make plays."

The Little Giants finally did make plays with just over 4 minutes to play. Trailing 38-24, Geoff Walker, who had 13 catches for 175 yards and three scores, hauled in a Huff pass from 7 yards to cut the deficit to a touchdown, 38-31. After holding the Grizzlies, the Little Giants knotted the game on DonJuan Brown's 1 yard plunge with just 39 seconds to play.

That set up the blocked field goal and then Franklin's overtime win.

The Little Giants out-rushed Franklin (186-180), had more passing yards (313-238), and total offense (499-418). But the 175-99 kickoff yardage difference consistently gave Franklin a shorter field.

Senior Dustin Huff threw the ball 45 times with 28 completions for 313 yards. Billy King, making his backfield debut, rushed 11 times for 92 yards. Franklin's Rupp hit for just 238 yards but was efficient hitting on 20 of 24 passes. Hartsfield carried the ball 23 times for 101 yards for Franklin.

The win was the second straight for Franklin over an NCAC school. The Grizzlies defeated Ohio Wesleyan last week. Wabash will look to bounce back against a tough Millikin squad next week on the Crawfordsville campus.

In photos: Top right: Walker with one of his 13 catches. Lower left: Huff takes off on a scramble. On the home page: Franklin running back RJ Hartsfield is upended and coughs up the ball.




Results: Franklin 45, Wabash 38 - OT Game Stats