Alumni and Friends Establish Fischer Fund
• September 8, 2006

Share: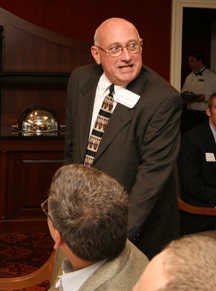 Wabash students, alumni, faculty, and administrators gathered September 1 to formally announce the John E. Fischer Fund for Cross Cultural Experiences.
The fund honors Emeritus Professor of Classics John E. Fischer H'70, who from 1964 through his retirement in 2004, encouraged and enabled students in their pursuit of study abroad programs and immersion learning experiences.
During his long tenure at Wabash, Fischer believed that off-campus programs, particularly those abroad, were integral components of a liberal arts education.
Alumnus Jim Dreher '85 was greatly influenced by Professor Fischer during his undergraduate days.
"Jim planted both the intellectual and philanthropic seeds for the fund but insisted that it be named for John and that it be open to anyone who wanted to make a gift," said Dean for Advancement Joseph Emmick '92.
A dozen donors to the Fischer Fund were on hand to celebrate their beloved friend and professor, and to welcome Fischer back to the College for the first time since his retirement.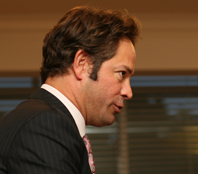 Dreher (pictured below left) and fellow alumnus Dr. Matthew Reeck '93 each told stories of their individual "fecklessness" as Wabash students and paid tribute to Professor Fischer for encouraging them to study abroad, which both described as a "life changing" experience.
The Fischer Fund will help the College fulfill its plan to use global resources in creating broad-based educational opportunities for its students, enhancing the ideas and concepts students learn in their on-campus classroom environments.
The fund may be used for a class to travel abroad in any discipline or to bring international educators and experts to campus to share in the exchange of cross cultural information and experiences.
Ben Gonzalez '07, Gary Simkus '08, Zach Foughty '07, and Professor Dan Rogers were participants in the Ecuadorian Studies Program last summer, which was partially underwritten by the Fischer Fund.
Alumni and friends who wish to support the Fischer Fund for Cross Cultural Experiences in addition to their annual fund gifts, may contact Carolyn Harshbarger in the Advancement Office at (765) 361-6298 or by clicking here.