First Community Fair a Huge Success
by Jim Amidon • August 28, 2006

Share: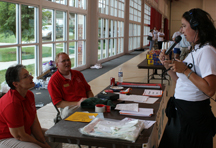 More than 60 Crawfordsville businesses, agencies, churches, and volunteer groups turned out Monday for Wabash's first Community Fair. Organized by the staff of the Schroeder Career Center, the Community Fair gave Wabash students, faculty, and staff a chance to better know what Crawfordsville has to offer.
"I'm very excited by the turnout," said Schroeder Career Center Director Scott Crawford, while passing out meal coupons good for Hawg Wild's grilled hot dogs and hamburgers. "I've wanted to do this ever since I came to Wabash. We ask students on the freshman survey what they know about Crawfordsville and we discovered they don't know much.
"This is an excellent way to introduce them to Crawfordsville, its businesses, and its people," added Crawford (pictured with Toni McKinney and Thunder 103.9's Jill Sheridan).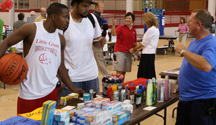 The well-prepared student arrived early, at 11:00 a.m. when the event started. By doing so, giveaways were in great supply. Junior Earl Rooks (left) came by the fieldhouse to shoot some baskets during his lunch hour. When he arrived, the Community Fair was just getting started.
"People just kept giving us free stuff," Rooks said, pointing to his overflowing bag. Many students were carrying anti-tobacco bags bearing the "white lies" ad campaign. As many as six businesses, including National City Bank and Eagle Embroidery, gave away free t-shirts. Applebee's had notepads and certificates for free appetizers.
John Crumpacker, a Wabash alumnus and manager of the soon-to-open Steak-N-Shake franchise near Home Depot, was pleased to be giving away discount and free milk shake coupons. And he's hoping Wabash students will turn out in force when the restaurant opens on September 5.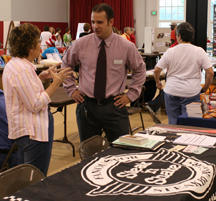 "I went to Wabash and nearly everything in town closes by midnight so there really wasn't anyplace to go," said Crumpacker (at right).
Becky Hurt, who is a board member of Crawfordsville Main Street and the owner of the Homestead and Whatever stores downtown, hopes to build on the momentum generated at the Community Fair. "I'd like to see us offer discounts to Wabash students on 'Wabash Wednesdays,'" she said. Both of her stores had booths at the fair.
Headliner's, a close-to-campus salon, had free shampoo and conditioner samples plus a bean bag toss with winners getting full-sized bottles of designer hair care products.
In addition to area businesses and stores, volunteer and civic agencies were also involved in the Community Fair. The Friends of Sugar Creek, Habitat for Humanity, and Character Counts! were also on hand to look for volunteers and raise awareness of their programs.
On Saturday, nearly a dozen Wabash students helped work on a Habitat for Humanity home near campus. Former librarian Larry Frye, representing Habitat, was pleased with the initial turnout. "If we can send out an email and get 12 guys to come out, that's great!"
The bowling alley, Turner Lanes, and the movie theater, Capri Cinemas, also came out to demonstrate some of the community's entertainment options.
"We had no idea what to expect, but we're very pleased with the turnout," added Crawford. "We haven't done this before, so for the first time you really don't know what's going to be the response."
National City Bank and Kroger helped underwrite the costs of the lunch, which was free to all members of the Wabash community.