Freshmen Show Early Success at Football Camp
by Brent Harris • August 16, 2006

Share:
Consider it the first of many challenges answered.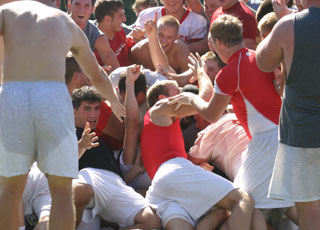 Freshmen in college face many new experiences - registering for classes, learning their way around campus, picking up the traditions and cultures of their new "home." This year the freshmen football players had to face an additional challenge. The senior members of the football team hadn't lost the tug-of-war competition in two years. The newcomers were up to the task, handing the seniors their first loss before advancing to the championship bout against a solid junior class. The freshmen prevailed, in what might be a preview of a solid group of 54 new recruits to a program that went 11-1 last year with a conference title.
The tug-of-war is just one of many competitions that take place as part of a three-day trip to the Fellowship of Christian Athletes Camp in Marshall, Indiana. The Little Giants not only use the time to work on the field to prepare for the upcoming season, but also spend time getting to know their teammates.
"Freshmen, three days ago you didn't even know one another," Coach Chris Creighton said after 54 rookies piled on top of one another to celebrate their victory. "Now you've come together as a group in a short amount of time and have learned to work together. And you also learned that it's ok to compete hard against one another, but we celebrate together as a family when we're done."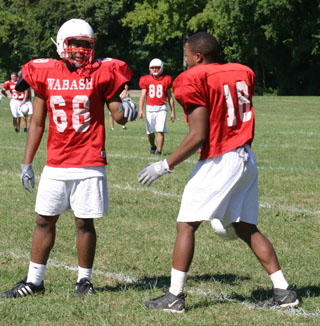 The players came away from the tug-of-war after already putting in a three-hour practice — their only time on the football field for the day. After dinner and a quick shower, they'll get together for special teams meetings before gathering once more as a group to discuss goals and leadership.
"Take a good look at that 16-foot wall you'll pass on the way out of camp," Creighton told a group of media gathered for interviews after the practice and class competition. "We got 120 guys over that wall all holding a football yesterday afternoon. You learn to work together to accomplish goals. That's a big part of what we're doing down here."
Football camp isn't the only activity underway prior to the arrival of the entire freshmen class Saturday morning. International students are going through their orientation, fraternity officers and residence hall assistants learned leadership Wednesday, and Bachelor staff members are on campus preparing a big back to campus issue.
Click here to view a photo album of campus activities that have already started.
Photos - (top left) The freshmen celebrate after winning the tug-of-war against the junior class.
(bottom right) Junior Thomas Bell talks to freshmen defensive back Charles Goodman in between plays.