Wabash College Welcomes 274 New Students Today
by Howard W. Hewitt • August 16, 2006

Share:
More than 274 young men are expected on the Wabash campus Saturday for Freshman Saturday. One of the biggest classes in recent years will be the first to be 'rung in' by new President Patrick White.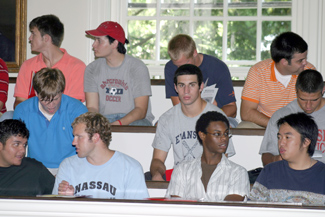 Saturday's activities begin with a morning-long registration period. The College's office of Alumni and Parent Relations will be hosting a Parent's Reception in the Allen Athletic Center. Simultaneously the Interfraternity Council will be hosting an introduction to the Wabash Fraternity system. A luncheon will be served before the highlight of the day, the 1 p.m. official ringing in at the Pioneer Chapel.
Dr. Patrick White will give his first official, on-campus remarks to the Class of 2010. And like his predecessors, he will use the bell which once belonged to founder Caleb Mills to "ring in" the class. The freshmen will not hear the bell again until their May 16, 2010, graduation date.
Saturday afternoon is set aside for students to meet with orientation leaders and faculty advisors. The young men will say goodbye to parents by 5:45 and enjoy a picnic in the college's Arboretum.
Sunday and Monday will include placement examinations. All of the freshmen will participate in community service projects Monday afternoon. Additional sessions with faculty advisors are available on Tuesday and Wednesday. The freshman will get an introduction to Wabash Support services, campus employments and computer services.
Classes begin for all students Thursday, Aug. 24.
Meet members of the class of 2010, by clicking here.
In photos: Above: Members of the Class of 2009 await the "ringing in" ceremony in the Chapel. On homepage: Freshmen arrive for registration last August.