OLAB Students Negotiate with Wabash Alumni
by Wade Coggeshall, Journal Review • July 13, 2006

Share:
Negotiation is an art form. A group of 55 high school students — from around Indiana and even from Pennsylvania, Iowa and Oklahoma — learned that first-hand during mock labor negotiations Wednesday in the Wabash College Fine Arts Center.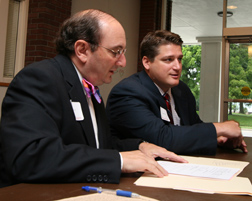 The students are participating in the college's Opportunities to Learn About Business (OLAB) program. Since 1973, Wabash has offered individual $1,000 scholarships for high-schoolers to spend a week on campus immersed in the study of business.
The program consists of intense, 16-hour days. OLAB packs a semester's worth of business courses into one week. The pupils are separated into groups, where they start their own companies and develop and market a product. Exercises include making commercials for your product and giving speeches to "shareholders." The groups are graded on a points system, with winners announced at Saturday's commencement.
Bert Barreto, a professor of economics at Wabash, has been heading OLAB since 1993. "The real key to this program is its ingenious design," he says. "The students are working hard and learning things because they're playing a game. I'm amazed every year at how hard they work because of the competition of the game."
OLAB's signature event is the labor negotiations the groups engage in. Playing the part of union representatives are Wabash alumni and other volunteers who serve as lawyers, bankers and economics teachers in real life. They have a breadth of business knowledge. And they aren't afraid to use it.
You may not be able to tell by his colorful bow tie, but Jon Pactor is "The Hammer" among the union reps. A 1971 Wabash graduate, the lawyer by trade has been helping OLAB for years by holding nothing back.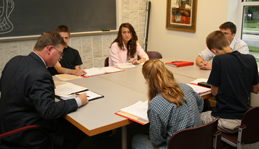 "I don't know if I'm tougher than the others," he says with a smile, "but if you don't make them work, they won't learn. That's the essence of this. There's a lot to be learned, and it's not just the business aspect of it."
Pactor's sinister method of bargaining is to soften his subjects by getting to know them before peppering them with questions and pitting groups against each other. The game is set up where a union head oscillates between two companies, mediating with both for close to two hours.
"Do we have a deal? We should," Pactor says to one of his companies upon returning to the table. "I hope you're more professional than the other group," he says to another. He jumps on one student for using soft language and not stating his case. "You keep telling us what you can't do," he says. "Tell us what you can do."
At one point he asks the unfortunate soul chosen to represent his group what his title is. "Negotiator," the student says, sounding a little unsure. "Negotiator!" Pactor retorts. "May be former negotiator when we get back."
This year Tim Oliver (with Pactor, above left) is serving as Pactor's partner in crime. A 1991 Wabash graduate, he was a star player on the Little Giant football team. Now a high-powered banker in Indianapolis, he's as imposing in a suit and tie as he was on the football field.
At one point, he and Pactor backed one group against the wall on the solvency of their company. By the time they leave, the students are bewildered.
"We're not bankrupt," one says. "He's just throwing a bunch of fantasy words at us. We've got to be calm and cool." His reassurance doesn't quell everyone's anxiety.
"Why'd we have to get the bow tie guy," the group's spokesperson says resignedly.
"Right after, a lot of the students will tell me, 'Wow, that was scary,'" Barreto says. "But a day or even an hour later, they'll tell me they loved it. They have to think on their feet and respond quickly. It's another brilliant component to the game. Some are upset afterwards. But at the end of the week, it's usually one of the most highly-rated aspects of the program."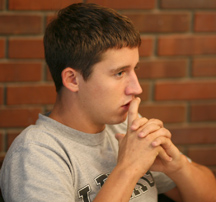 "It's been pretty exciting," participant Jacob German (left), a North Montgomery student, says of the week so far. "There's not much time to rest. The spectrum is large. We're taking in a lot in a short amount of time."
His group was one of Pactor's verbal punching bags.
"It's pretty intense," German says of the negotiations. "It'll be interesting to see how we step up to what he brings to the table. It's going to be tough to bring him to our side."
There have been numerous times in the past decade when OLAB almost ended due to lack of funding. Wabash relies on contributions from local businesses and civic organizations to keep it alive. The college intends to keep the program where students, regardless of socio-economic status, can participate without having to pay.
Terri Gadd, president of Crawfordsville's Kiwanis Club, visited OLAB in action for the first time on Wednesday. This is the second year Kiwanis provided a $500 scholarship to the program. She's confident the money helps fund a worthy cause.
"I'm so impressed with (the students') abilities and what they know to ask" she says while observing one group discuss opening a daycare center for its employees. "Their knowledge of what to negotiate is on an adult level. It's a very good program."
Photo above right: Rick Cavanaugh was one of several Wabash alumni involved in OLAB labor negotiations.
This article originally appeared in the Crawfordsville Journal Review.