Wabash Students Make Recommendations for New Fairgrounds
by Howard Hewitt • July 5, 2006

Share:
Wabash College students made recommendations Wednesday to the Montgomery County 4-H Board and Extension Office Staff for a new Montgomery County Fairgrounds.
The students recommended developing a convention center concept with a community building at the proposed new fairgrounds. Property has been acquired at the I-74 and St. Rd. 231 intersection.
The College's Summer Business Immersion program took on the fairgrounds' future as its summer task. The program is funded by Lilly Endowment.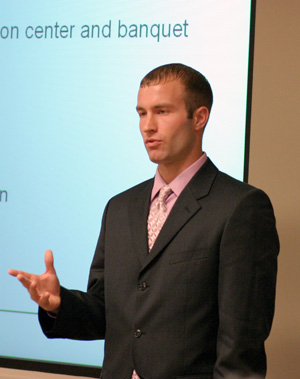 The three-year-old Summer Business Immersion program is an eight-week paid internship for 12 Wabash students to learn about business and entrepreneurship.
The students told a large gathering of 4-H Board members and staff how they conducted market analysis, conducted a business survey, reviewed electronic resources and analyzed the 4-H's marketing efforts.
A key part of the students' work was a survey of Montgomery County employers of 100 or more workers. The students figured such companies were the most likely to rent new 4-H Exposition space.
The survey showed enthusiasm for the new facilities though any timetable would put completion several years down the road.
The students recommended a banquet hall be included with a capacity of 500-600. It should have updated technology for sound, electronic presentations and internet access. Catering options are important along with a plan to handle groups who wish to serve alcohol.
The students recommended thinking out side the box for additional revenue the new facility could generate. They suggested a professional rodeo and a hot air balloon race as two possibilities. They also recommended looking at using some of the buildings as a sports complex for activities such as volleyball, indoor soccer, inline hockey, flag football, and other local sports leagues.
The research work allowed all 12 students to learn a lot about the community and 4-H. Even Jake Turner '07, who grew up in Waynetown, admitted he learned a lot during the research process.
"I learned how much work it actually takes to keep the fairgrounds going," he said. "I didn't know about Jim (Luzar) and the extension office, there is so much work they put into all that goes on out there. I've gone to the fair and know they have cattle and pigs but there is so much more to it.
"Their ideas are getting bigger and they're thinking on a lot broader basis. It's just going to be good for the county."
Chris Dixon who acted as primary spokesperson for the student group closed the presentation by summarizing the student recommendations. He said creating a user database, developing a separate identity for the Convention Center, and building relationships with local businesses "are absolutely crucial" to future success.
The students were please to take part in a real research project which faces big challenges. "I learned there is a lot of red tape," Turner said. "There are a lot of different people need you need to talk to and lot of different information you need to gather before you can make a decision whether you want to start your own business or engage in a project such as building a fairgrounds that's going to cost millions of dollars.
"You really need to do your research and talk to the right people."
The student recommendations give the 4-H board some ideas and guidelines how they might shape the future of the proposed facility.
In photos:
Top right: Jake Turner talks about entertainment possibilities at the new 4-H Fairgrounds.
On homepage: Chris Dixon explains the market research students completed to start the project.