Wabash River: Agriculture's Impact on Wabash River
by Clayton Craig '08 • June 28, 2006

Share: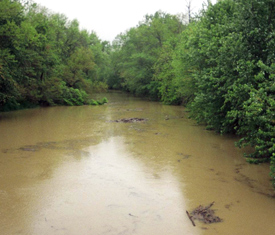 Three Wabash men elected to navigate Indiana's length of the Wabash River to study its history, biology, and beauty.
The Wabash River Drainage Basin encompasses approximately 80 percent of Indiana as well as small portions of both Ohio and Illinois; essentially, its one massive funnel that drains into the Wabash River. To gain a slightly better understanding of the enormity of this funnel, it covers approximately 62,000 square kilometers of Indiana, 22,500 square kilometers of Illinois and 740 square kilometers of Ohio. With that much water flowing toward one location it is bound to have a major impact on the Wabash River.
For as long as there has been agriculture, farmers have had to deal with erosion. Farmers located within the Wabash River Drainage Basin are no exception. My part, as the biologist in the Wabash River Group, was to look at the impact agriculture has had on the Wabash River ecosystem. During a 340-mile canoe trip down the river three College men observed different farming practices such as planting to the edge of banks of rivers and streams and how each practice affects the Wabash River.

We canoed from the Mississinewa River north of Peru all the way to where it empties into the Ohio. Throughout the duration of the trip Craig took water measurements testing for conductivity, oxygen saturation, secchi depth, and the total amount of dissolved solids. Each of the measurements offers a general knowledge of how much sediment is being dumped in the river via tributaries that stem from throughout the Wabash River Drainage Basin.

Craig has synthesized his data and written a paper addressing the problems of agricultural erosion and what steps are being taken to prevent it.

Craig '08 is a biology major from Morristown, Ind.




For more information see: