Vonnegut: A Hoosier Legacy
by Aaron Spolarich '08 • June 27, 2006

Share: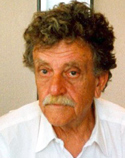 Indiana has a rich literary tradition which is often forgotten.
Great authors such as James Whitcomb Riley, Booth Tarkington, and Lew Wallace have all called Indiana home, but no Hoosier author has impacted literature as much as Kurt Vonnegut Jr. Vonnegut's best known works are Slaughterhouse Five, Breakfast of Champions, and Sirens of Titan among many others.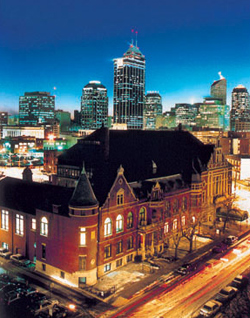 Unknown to most Hoosiers, the Vonnegut family has left an indelible mark on Indiana. Kurt's great grandfather, Clemens Vonnegut, established Vonnegut Hardware Company in Indianapolis after arriving in America from Germany. Vonnegut hardware would remain a staple of downtown Indy for over a century.
Bernard Vonnegut, Kurt's paternal grandfather, became a renowned Indianapolis architect, designing numerous Indianapolis buildings, including the Athenaeum. Albert Lieber, Kurt's maternal grandfather, was a prominent member of the Indianapolis "aristocracy", and was owner of a brewery whose beers won global acclaim for its secret ingredient: coffee. Kurt Sr. followed in his father's footsteps by becoming a second generation Indianapolis architect. Buildings such as the original L.S. Ayers headquarters and the Indiana Bell building were designed by Kurt Sr.'s hand.
With their passing, each Vonnegut and Lieber found their final resting place in Hoosier soil. Apart from Kurt Jr.'s brother, the Vonneguts and the Liebers all rest at Crown Hill Cemetery in Indianapolis.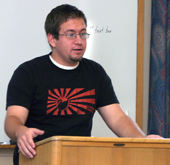 Whether it was spending winters as a child on Lake Maxinkuckee, reminiscing under the L.S. Ayers clock designed by his father, or a brief mention of Wabash College in Player Piano, Kurt Vonnegut Jr. will always have deep ties to the Hoosier state.
Spolarich '08 is an English/Psychology major from Schererville, Ind.
In photos: Top right, Kurt Vonnegut Jr. At left: Indianapolis' Atheneum.