Bogan Named to Academic All-American First Team
by Brent Harris • May 31, 2006

Share: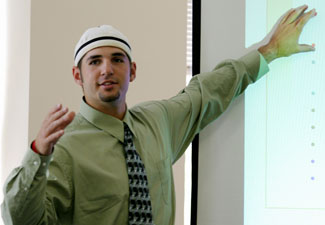 Senior Jared Bogan has been named to the 2006 ESPN The Magazine Academic All-America Baseball First Team, College Division.
"This award is a reflection of the many great influences in my life, both on and off the field," said Bogan. "From my parents, to my teachers and coaches, there are so many individuals who have helped me reach my goals. For that, I thank them."
Bogan, graduated summa cum laude in May with a 3.82 GPA as a history major with an area of concentration in education, is also a member of Phi Beta Kappa. He shared the 2006 Pete Vaughan Outstanding Athlete Award and the Indianapolis Association of Wabash Men Student-Athlete Award. He was named the Wabash representative for North Coast Athletic Scholar-Athlete of the Year. He also received the Caleb Mills Excellence in Teaching Award and the John F. Charles World History Prize. He also earned distinction in his comprehensive examinations. He is a member of Sphinx Club and has served as vice-president of Lambda Chi Alpha fraternity. Bogan has accepted a teaching position in the North Montgomery school system.
"Had it not been for my parents, teachers, coaches, and teammates, none of my successes would have been possible," Bogan said. "It shows that putting in a little hard work and surrounding yourself with awesome people really does make a difference."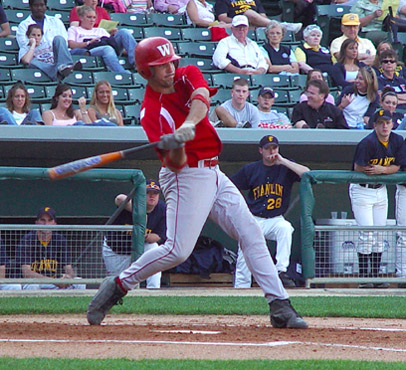 "It doesn't surprise me he has achieved these honors," said Tom Flynn, Bogan's baseball coach at Wabash. "Jared puts incredible effort into everything he does --- playing baseball, teaching in the classroom, being a leader on the field, or being a leader on the Wabash campus. This is a very well-deserved conclusion to an amazing academic and athletic career at Wabash."

Bogan led the Little Giants with a .413 batting average this year, starting in all but one of 38 games for Wabash. He finished with 52 hits, including 14 doubles to tie his own single season school record set in 2003 while earning Second Team All-NCAC honors. He tied for the team lead in home runs with five, and finished tied for first in RBIs with 23. Bogan is third in Wabash history in home runs (12) and RBIs (78) and second in career doubles (36).

Bogan and the other 32 individuals named to the College Division Academic All-America teams were selected by the College Sports Information Directors of America. A student must maintain a cumulative GPA of at least 3.2 as a starter or key reserve and have reached sophomore athletic and academic standing to be eligible for nomination for the All-District team. First Team All-District selections from the eight CoSIDA regions are placed on the national ballot and are voted on by the CoSIDA Academic All-America Committee.




For more information see: