NAWM Board Hosts Wabash Faculty
by Tom Runge • May 16, 2006

Share: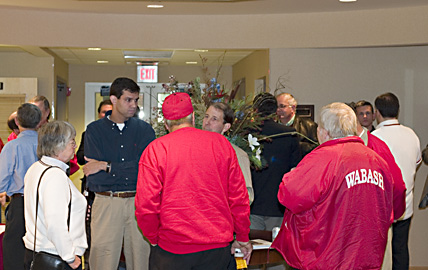 The board of directors of the National Association of Wabash Men, our alumni association, hosted an informal reception and dinner for Wabash's faculty on Friday, May 12, 2006. The events were part of the board's annual meetings on campus during Commencement weekend.
According to the board's president, Jay Fisher '66: "One of the NAWM board's foci under the College Strategic Plan is to explore and develop ways in which alumni may be a more positive asset to the faculty in the education process for Wabash students. This event was an effort to informally meet and develop ideas together which ideas can mature and then be made into action plans for alumni to be involved in ways the faculty might desire. The Board members are very pleased with the faculty response and participation and look forward to an active collaboration to the ultimate benefit of the Wabash student."
Top photo: Faculty members Melissa Butler, Todd McDorman, David Timmerman, and Joe O'Rourke talk with NAWM board members before dinner.
For more photos, click here.