Bachner Teaches the Wonders of Sugar Creek
by Wade Coggeshall • May 9, 2006

Share:
It's easy to fall into the mindset that much of Indiana and the Midwest is flat and overrun with cornfields — "flyover country" as the coastal snobs like to remark. Even some native to the region are unaware of its hidden treasures.
A Lilly Grant is trying to combat that. Called Explore Indiana, it was awarded to Wabash College to encourage graduates to stay in Indiana and help alleviate the state's "brain drain." The grant helps pay for classes in which students participate in various activities around Indiana to enhance their appreciation of the state. Students can use summer internships to study distinctive interests and later present what they learned. The grant pays for Wabash students and faculty to take kayak trips down Sugar Creek, and see for themselves the beauty that surrounds it.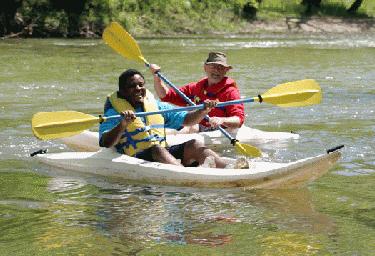 Mike Bachner knows all about Sugar Creek. The 1970 Wabash College grad has been kayaking on it, even cross-country skiing up it in winter, for close to 40 years. The Ohio native came to Wabash College because of the creek. A fraternity canoe trip during his second visit to campus "sealed the deal," he said.
"Sugar Creek's incredibly beautiful," said Bachner, who manages the Wabash College Bookstore. "I get asked if I've done other things, like white-water rafting. I almost went one time. But Sugar Creek's what I've done, and it's been incredibly satisfying to me."
Bachner uses the grant money to take Wabash students and faculty on kayak trips down the creek. He tries to limit each trip to five or six people so as to maintain some intimacy with the natural surroundings. For many of the students and staff, this is the first time they've ever seen this side of the area.
"It ranges from wonder for a lot of students who've never been to the creek at all," Bachner said of their reaction. "They're amazed at the bluffs and hemlock banks. (A recent trip) was the first time anyone just broke out into a race down the creek. That's exuberance; they get out there and relax. It's a lot different from the campus pressure."
Bachner's favorite such memory occurred about 10 years ago when he took a Pakistani student. They were passing through the valley where William Offield, one of the area's first settlers, had lived when the student started a Sufi chant. The landscape reminded him of his grandfather taking him to see a Sufi water ritual in his native Pakistan. Bachner still uses that chant as meditation when he's kayaking on Sugar Creek.

Melissa Butler, a professor of political science at Wabash, recently took her first trip down the creek, even though she's lived in Crawfordsville for 30 years.
"It was far more beautiful than I thought it would be," Butler said. "For somebody who's been in Indiana for a long time, even for me it opened my eyes to things about Indiana I hadn't previously considered."

Bachner sweetens the experience by pointing out crinoids and giving a geological history of the place. He also tells a story that was passed on to him, one he calls "Shakespeare on Sugar Creek." One evening the college's president, a trustee and some others from the theater department were on a stroll by the creek after having dinner at the trustee's home. They spotted a campfire in the distance. The theater department was performing "Canterbury Tales" at the time. Someone from the party started shouting the opening text. A voice from below in the valley came back with some Shakespeare. The president and unknown camper exchanged Shakespeare for about 20 minutes before the group decided to head back. They never knew who the camper was.
"I like to stop and tell that story, encourage students to enjoy the liberal arts because you never know when it's going to be useful like that," Bachner said. "That's the nice thing about the creek. People know I love it, so sometimes they come to me with stories, and that allows me to enrich the experience for people who go with me."
Shades State Park is another refuge for Bachner and his wife, Patricia. In March nationally-renowned nature writer and environmentalist Terry Tempest Williams visited campus. Bachner offered to take her to Shades during her visit after they struck up a conversation in the bookstore. A native of Utah and its desert environment, Williams readily accepted.
She was so enamored with the park's primeval growth she wrote an essay during the hour she was there and on the car ride back. Williams read it that night on campus during a lecture she was giving.
"I will never think of Indiana as only a domesticated landscape of cornfields," she wrote in part. "Wildness resides in the heart of America, here, now. An inverted sense of wonder."
The experience ameliorated Bachner's existing love for the land.
"It was an amazing experience to see Shades through the eyes of somebody new who truly appreciated the beauty of the place," he said. "The opportunity to go with (her) reminded me how special the place is. The things you do regularly and the things that are around you, you begin to take for granted.
"It's easy to get complacent and not recognize how special the things around us are."

Coggeshall is a reporter for the Crawfordsville Journal Review.
In photo: Bachner (in red shirt and hat) floats down stream with senior Nikeland Cooper.