Wagner Presents Intense Prison Drama
by Jim Amidon • April 27, 2006

Share: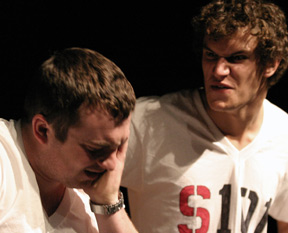 Peter Wagner spent his junior year studying down under at the University of Tasmania School of Visual and Performing Arts. There he was able to experiment with different types of plays, directing, and acting. It was also there that he spent a great deal of time working on "character-focused" acting.
He brings the results of his time down under to the Wabash stage this Friday and Saturday night when he debuts Geoff Dobson's intense prison drama, Heads in the Sand, at 8:00 p.m. each night in the Experimental Theater of the Fine Arts Center. (photo album)
"I wanted to produce a show that was actor-focused after being involved in that type of theater while overseas last year," Wagner says. "There I was able to be in productions that focused on getting to know the character individually. This occurred through a long process of intense one-on-one actor-director rehearsals.
"That kind of theatrical process added a level of intensity in my acting that might not have been there before."
He's brought that intensity back to Wabash and will stage a play with four relative newcomers, but men loaded up with plenty of intensity. Heads in the Sand stars Patrick Millikan, Greg Mahoney, Jack Martin, and Wes Jinks.
Don't look for detailed costumes or well-designed sets; Heads in the Sand is in-your-face drama from beginning to end.
While studying in Tasmania, Wagner met Australian playwright Geoff Dobson, author of Heads in the Sand. Wagner describes the play as "an intense prison drama following the lives of four inmates."
Friday's production of Dobson's play marks the international debut of the show.
"I have had the pleasure of working with four focused individuals in this process who have pursued this project with as much fervor and intensity as I have," says Wagner of his cast.
Wagner does point out that because of intense adult situations and harsh language, Heads in the Sand is not recommended for children.
He also suggests that the play is demanding for actors and audience alike. "Be prepared to come and be questioned," he adds. "Be prepared to ask yourself, 'Do I have my head in the sand?'"