Welcome to the Real World!
by Tom Runge • April 25, 2006

Share: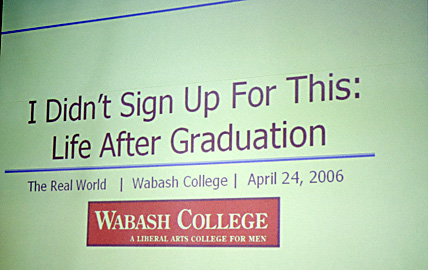 The Schroeder Center for Career Development (SCC) teamed with the Office of Alumni and Parent Relations to offer our seniors an evening of keen insight into the world after Wabash. International Hall, Detchon Center was full as almost 50% of the senior class learned about the real world from a number of talented speakers.
The program included:
Susan Strayer - noted author and consultant. Susan discussed the fine points of surviving the first 90 days on the job or in grad school, benefit packages, and other important first steps.
Mike Gaby '92 - CPA with his own firm. Mike took the wind right out of the salary sails by explaining the various deductions from a pay check before it gets to the employee and offered helpful hints for tax time.
Dale Smith '78 - realtor and business owner. Dale provided critically-important information about credit ratings and home buying.
Beau Barrett '98, Merrill Lynch Certified Financial Planner. Beau offered sage advice on the best investment options for new grads.
Many thanks to Scott Crawford, director of the SCC, Stephanie Hopkins, assistant director, and Toni McKinney, secretary, for a truly informative evening.
Photos:
Top - Susan Strayer's Opening slide says it all!
Right - Susan makes a point about the first 90 days at work.
For more photos, click here.