Wabash's Senior Art Show Culmination of Creativity
by Wade Coggeshall • April 17, 2006

Share: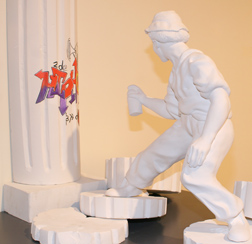 This year's Wabash College Senior Art Majors Exhibit has some interesting displays and impressive artisans.
The exhibition opened with a reception in the Eric Dean Gallery in the Fine Arts Center, and runs through May 14. Gallery hours are 9 a.m.-5 p.m. Monday-Friday and 10 a.m.-2 p.m. Saturday. Admission is free and open to the public.
Each year the display serves as a rite of passage for graduating art students. This year's crop is Tim Parker, Adam Miller, David Murphy and Billy Whited. Each offers his own unique background and perspective to his specific medium.
Parker has been a football player far longer than he's been making sculptures. In fact he only took one art class at Warren Central High School in Indianapolis. He came to Wabash attracted by its football program and rigorous academic standards. He found a home in the college's art department.
"It's the ability to work with my hands and the craftsmanship, and all the tedious details I'm used to putting into my work," Parker said of what endeared him to sculpturing (pictured on the right).
For his senior exhibit, Parker has four figures representing hip-hop, his cultural background. They're set within historic backdrops, of time periods he's come to appreciate through his studies.
"It's kind of an ironic twist I have going, with two different eras," Parker said.
"He's a quite talented man," said Prof. Greg Huebner, art department chair. "He has tremendous drafting/drawing ability, and has a good means of translating the visible world into either two-dimensional or three-dimensional form."

Miller is a painter. He's also colorblind. Normally the two don't accommodate each other. In Miller's case, he considers the condition more an advantage than burden.
"I have a more unbiased approach when I come into (painting)," said Miller, who was into drawing before he came to Wabash. "I don't have the idea in my head of what would work with this, what would not. It gives me the option to experiment more."
He has eight abstract paintings ready for show. Miller's also untraditional in that he rarely uses a brush conventionally, but to throw paint at the canvas. Drips, pours and splatters are still more of his common means.
"I got interested in how you can put different colors together for just the way they look," said Miller, who's attending school at Daytona Beach for automotive motorcycle design following graduation. "Most people see complementary colors — this one looks good with that one — but I more like the action that's created with them." "I really didn't find out (he was colorblind) until probably his sophomore year," Huebner said. "I know people who aren't colorblind that don't work with color as well as he does."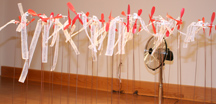 Other forms at the 2006 Senior Art Majors Exhibit include Murphy's ceramics and Whited's kinetic installation (photo right). Murphy's technique is to work his clay with no preconceived notion of how it should turn out. A kinetic installation includes multiple media. Whited's senior project combines toy-like creatures and a fascination with flight to touch on larger societal consequences.
It's a culmination of years of study and vigorous creation. The performers don't take it lightly.
"I've been in the art studio every day for the past two months," Parker said. "It's been stressful, too, just making sure I make deadline. I'm actually still working on my pieces, trying to finish the touch-up work. It'll be down to the wire, but when it's all said and done, it'll be a good show and I'll have a big smile on my face."

Coggeshall is a reporter for the Crawfordsville Journal Review.