President and First Lady In Washington
by Tom Runge • April 14, 2006

Share: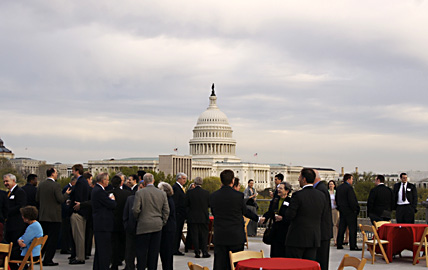 President Andy Ford and First Lady Anne Ford returned to Washington, DC for a gala event honoring their lasting contributions to the College. A large group of alumni and friends gathered at the Jones Day law firm for a reception and dinner in the Ford's honor.

Regional association president Bert Salinas '97 served as emcee for the evening. After dinner, Greg Castanias '87 talked of the Ford's many contributions to a much stronger Wabash and presented Andy Ford with a bottle of Johnnie Walker Blue Label Scotch.

The evening also served to highlight the immense success of the Jim Graham '65 Externship program - the first of its kind at Wabash. The late Jim Graham served as a founder of the National Capital Association and the program is named for him. The association hopes to create an endowment for the program large enough to make future externships self-sufficient.

Many thanks to Jane and Greg Castanias for hosting the entire reception and dinner and to all the members of the regional association for making the evening such a great success.

Photo: You can't beat the view from Jones Day!

For more photos, click here.