Braggart Soldier: Three Stooges Meets Dr. Strangelove
by Wade Coggeshall, Journal Review • April 18, 2006

Share: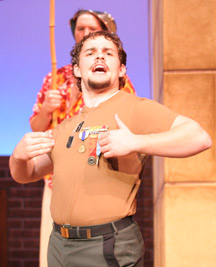 The Wabash College Theater Department's last production of the school year serves as a balm of sorts for a troubled nation and a fitting challenge to one of the best senior classes in years.
"The Braggart Soldier" runs today through Saturday with an 8 p.m. start each day at Ball Theater in the Fine Arts Center. Tickets are free and may be reserved through the box office by calling 361-6411.
The play, written by Professor of Theater James Fisher, is in the spirit of commedia dell'arte and is adapted from comedies by Plautus, a Roman playwright pivotal to the tradition's popularity during the Renaissance. Just like commedia dell'arte, "It's got every kind of low-comedy humor," said Fisher, describing it as " 'Three Stooges'-meets-'Dr. Strangelove.' " Calling it "wildly farcical, raucous and satiric," he thinks "The Braggart Soldier" will appeal to many age groups, exempting very young children.
It centers on a cocky but dimwitted soldier named Capitano Georgulio, played by senior Matt McKay, who gets between two lovers. The lovers are helped by various servants and misadventures.
One trait Fisher respects about commedia dell'arte is its ability to be topical.
"Comedy isn't about character so much," he said. "The characters represent one or two recognizable human traits, usually with flaws. The stereotypes are used to allow the playwright to comment on human behavior in a broadly humorous way."
Fisher relates Georgulio to our country's current commander in chief, right down to using "Bushisms" in his dialogue.
"No names are mentioned, but the connection will be impossible to miss," Fisher said.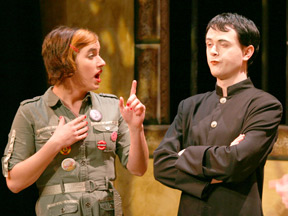 "Things aren't going as well in the country as they might. We could use this satiric form as a way to make our point about that. This is not by any means serious; it's as silly as a play can get. But you can still make a point. We're trying to do that."
While "The Braggart Soldier" alludes to current events, it's also vaguely set during the Renaissance, which one character explains to the audience. The bizarre blending of eras only adds to its zaniness.
More than slapstick, though, a play of this type demands much from its participants. With such a simple plot, it's up to the actors to add flesh to its bones.
"For the actors, it's not only acting, it's performing," said Fisher, who wrote an original script years ago in this same theatrical vein. That includes a lot of movement and interplay with the audience, with some liberty to ad-lib on the latter.
"It's dependent on a cast that works well together," Fisher said. "Most of the humor is generated through interaction among the characters and comic bits involving several people at once."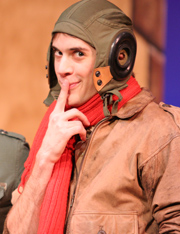 The cast for "The Braggart Soldier" is a mix of the experienced and the tenderfooted. Freshman Dustin Foster has a large role, while seniors Matt Ripley, Ali Ahmed and Joe Martin are making their Wabash stage debuts. Even with significant roles, Denis Farr and Richard "Dickie" Winters also are designing all the costumes. The cast and crew are working tirelessly to make an intricate production look effortless.
"The odd thing about this kind of theater is when you go to see it as an audience member, it seems so simple," Fisher said. "But the doing of it is so difficult. It's like great dancers. When they do it perfectly, it almost makes you feel like you could do it. But when you think about it, you know you couldn't. The effort that went into making that simplicity was so great. That's what's true of this kind of theater. We're working very hard not to let the effort show, to make it look like they're making it up on the spot. That's a hard thing to achieve."
This article first appeared in the Crawfordsville Journal Review