IAWM / WCC Cubs Game
by Michael Warren • April 7, 2006

Share: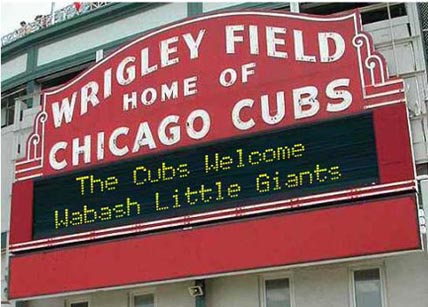 The Indianapolis Association of Wabash Men and Wabash Club of Chicago have teamed up to organize an opportunity for Wabash alumni and friends to get together. They invite all interested parties to join them in Chicago for a day of baseball and fellowship on Thursday, April 13. You can sign up through the Wabash Club of Chicago and meet everyone at the venue or you can join the IAWM on their chartered bus leaving from Victory Field in Indy.

Extend the Easter weekend to four days and join us in Wrigleyville on Thursday. See details below:
Pre-game festivities will begin at John Barleycorn (3524 North Clark Street) at 11:00 AM and will include lunch and TWR. Game to follow at 1:20 PM.

Joining us in Chicago? Reserve tickets immediately by contacting Heather Bazzani at 765-361-6360or bazzanih@wabash.edu. Cost : $50 per person. Tickets will be distributed at John Barleycorn.

Want to ride the bus from Indy? Contact Lee Clark '73 at 317-267-7468 or lee.clark@allegiantgroup.com. Cost: $75 per person (includes bus transportation with drinks and snacks. The bus will depart Victory Field parking lot 8:16 AM.