College's 4th Annual Latin Festival Friday Evening
by Howard W. Hewitt • April 6, 2006

Share:
Wabash College's fourth annual Latin American Festival will be celebrated Friday with a best-selling author, music, and dinner.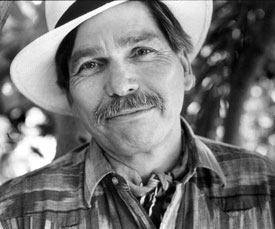 Acclaimed author Victor Villasenor will speak in Baxter 101 at 4:30 p.m. His talk is titled: "The Power of Ancestry and The Wisdom to Know When to Change With The Changing Times." His presentation will be followed buy a Latino dinner in Detchon Hall. Entertainment will be provided by Mariachi Sol Jaliscience.
The annual festival is sponsored by Unidos Por Sangre Organization, UPS. UPS is a student organization formed to bring awareness to the College and community of the history, heritage, and culture of Hispanic students.
Villasenor will talk about his life and the difficulties of Latino immigrants in America. He covers the struggle Latinos feel to keep their own heritage while learning to blend into American society in order to survive.
Villasenor was born in California and spoke only Spanish until starting school. After struggling with language and cultural barriers, he dropped out of high school and moved to Mexico. But it was there he discovered art, literature, and music that helped him understand the dignity and richness of his heritage.
He returned to the United States at age 20 and started to confront through literature the problems associated with his cultural heritage. After producing nine novels, 65 short stories, and receiving 265 rejections, Villasenor sold his first novel, Macho!. The Los Angeles Times compared the book to the best of Steinbeck.
That success led to the publication of his best known work, Rain of Gold. Published in seven languages and used in schools throughout the nations, Rain of Gold tells the story of Victor's family, taking the reader from war-torn Mexico during the revolution to the present day.
He has written a number of nonfiction books since that success and become a sought-after lecturer.
Villaseñor's commitment to world peace and harmony is demonstrated through "Snow Goose Global Thanksgiving", his non-profit organization established to promote peace throughout the world.