Carnegie Hall Premiere Features Wabash Professor
by Steve Charles • April 4, 2006

Share: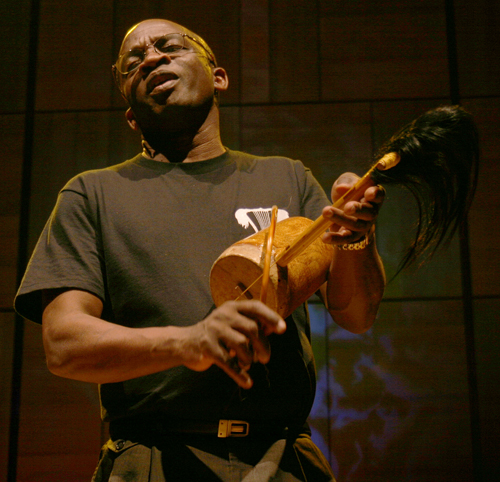 An unlikely convergence of Chinese, Ugandan, Appalachian, and Ukrainian musical traditions made its live performance debut Thursday night at New York City's Carnegie Hall.
And it all started with an overheard practice session.
Professor James Makubuya was in a rehearsal room preparing for his solo performance at the World Music Institute Anniversary Celebration in 1999 when acclaimed Chinese pipa virtuoso Wu Man walked by. Taking a break from her own rehearsal, she was intrigued by the sound of the endongo, the lyre indigenous to Makubuya's Bagandan people.
"She knocked on the door, then very politely asked me about the instrument, and she seemed especially interested in how it was tuned," the Wabash professor recalls. They discovered that Wu's pipa, a four-stringed lute, was tuned in the same intervals as Makubuya's eight-string endongo, and they wondered what the two would sound like together.
The result was a musical epiphany.
The pipa's delicate tone and Wu's precise articulation wove beautifully into the earthy growls, snaps, rhythms and drones of the endongo and Makubuya's joyous voice. The two decided to perform together in what The New York Times described as a "surprisingly unified duo," and the seeds of Thursday night's "Wu Man and Friends" concert were planted.
That performance brought Wu and Makubuya together live for the first time with Appalachian folk musician Lee Knight and Ukrainian bandura and flute player Julian Kytasty, who accompanied their music on last spring's Traditional Crossroads CD Wu Man and Friends.
"Wu Man and I played our duets together in the recording studio, but this was the first time all four of us have played live together." Makubuya says. "I think we were all a little nervous."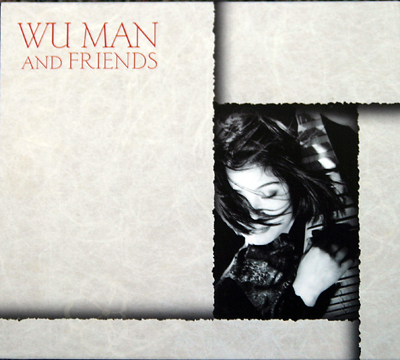 The reception that the CD Wu Man and Friends received from critics suggests he had little to worry about.
"Wu Man takes her tradition and melds it with instruments, singers, and music from the U.S., Ukraine, and Uganda," the All Music Guide says "Unlikely as that sounds, it works well. Everything seems quite relaxed and perfectly natural, as if these instruments had conversed together for centuries."
"I think this performance is just the beginning," says Makubuya, who in 2000 founded Wamidan, the College's world music ensemble. "We hope to take this program to different institutions and cultural festivals where people will see that there are ways that two or three or four folk music traditions can move well together, and work as a team."
He believes that teamwork has implications beyond the music.
"Folk music all over the world carries messages we can learn from, and that's the bigger picture. In a world so often in conflict, we hope people will see that different traditions not only blend, but even enhance one another, and can bring out music in ways we had previously not even imagined."
Photo by Shay Atkinson '05, taken during Professor Makubuya's solo performance at Carnegie Hall in 2004.