Quartet New Generation to Present Concert Thursday
• April 4, 2006

Share: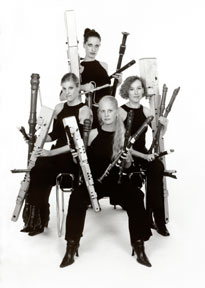 Wabash College's Visiting Artists Series will present the Quartet New Generation in Concert, 8 p.m., Thursday, in Salter Concert Hall in the Fine Arts Center.
The group will perform many different pieces Thursday evening including "Cybergirls Go Extreme," a piece for recorder quartet (dancing), and drum and bass track, written in 2003 by Danish composer Chiel Meijering for Quartet New Generation. They will also be performing the premiere of a piece for recorder quartet and video entitled "Games," composed for them by Wabash College professor Peter Hulen.
Click here to read the Journal Review article on Hulen's composition.
Quartet New Generation was founded in September 1998 by four recorder players who met during their studies at the Amsterdam Conservatoire and the University of the Arts, Berlin. They have been awarded top prizes including the International Gaudeamus Interpreters Competition for Contemporary Music in the Netherlands; the International Chamber Music Competition for Contemporary Music in Poland; and the Concours International de Musique de Chambre' in France. In 2004, QNG was awarded First Prize in the 2004 Concert Artists Guild International Competition, as well as the Victor and Sono Elmaleh prize, a new video/recording prize, and numerous performance prize engagements throughout North America
Quartet New Generation is dedicated to contemporary music and collaborations with emerging composers from around the world, proving to international audiences the recorder's ability to be a modern classical instrument. Performing on upwards of 20 different recorders of varying sizes and shapes during a performance, the quartet believes that early music can be seen as new when programmed with a fresh eye and juxtaposed with contemporary works. This innovative style of programming combined with QNG's mesmerizing stage presence has attracted broad and enthusiastic audiences throughout Europe and South America.
The ensemble made its official U.S. debut September 14, 2004, on the CAG series at Weill Recital Hall at Carnegie Hall, in addition to New York performances at Trinity Church, Columbia University's Italian Academy and the Tri-Institutional Noontime Recitals Series at The Rockefeller University, as well as concerts with the Pittsburgh Chamber Music Society and the Detroit Institute of Art.
Seating for Visiting Artists Series events will be by general admission, though free tickets are required for Visiting Artists Series programs.
Contact the Fine Arts Center Box Office by phone: 765-361-6411. The box office will open 90 minutes before curtain time for Visiting Artists events.