Wabash Set to Host Relay for Life This Weekend
by Jim Amidon • March 21, 2006

Share: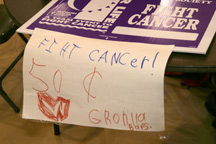 Wabash College will have no time to rest from last weekend's successful Honor Scholarship Weekend when about 350 prospective students and a couple hundred parents descended on campus.
This week Wabash will host the Montgomery County Relay for Life from 7 p.m. Friday through 7 a.m. on Saturday. We expect around 800 people to fill Knowling Field House for the cancer fundraiser. The theme for this year's Relay is baseball: "Hitting Cancer Out of the Park."
This marks the third straight year that Wabash has served as the Relay's host. The first year came as a surprise when massive thundershowers flooded Hoover Field and forced Relay organizer Ruthanna Williamson to scramble. The event turned out so well that we moved it to Wabash last spring, where it's likely to stay for a long time.
Last year about 50 relay teams raised more than $60,000 for cancer research, awareness, and outreach activities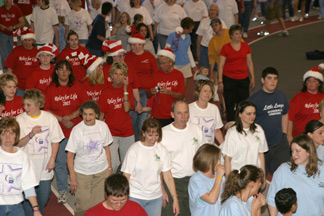 This year's event should be even bigger since Wabash students are planning to field as many as a dozen teams. And, since they're college students, we expect the students to bring a big physical and emotional boost in the wee hours of Saturday morning when most relay walkers have headed home for the night.
This year's format follows that of past years, except that the event starts an hour later at 7:00 p.m. Once again participants may purchase luminaries to honor loved ones who have been victims of cancer and balloons to honor cancer survivors.
Survivors are encouraged to arrive around 6:00 p.m. to get registered. The whole event kicks off with a ceremonial balloon launch that honors people who have fought cancer and won the battle! After the balloons are released, the event gets under way with the moving and emotional Survivor's Walk — a single, 200-meter lap around the Knowling Field House track.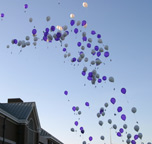 The Relay teams then take to the track. Organizers ask every member of each team to take that first lap, then people usually settle into a relay-style, tag-team pace for the remainder of the evening.
At about 9 p.m. the Field House lights will dim and the Luminary Ceremony will begin. At this time several hundred candles are lit and the names of this community's loved ones who have died from cancer are read. This event is easily the most emotional part of the entire Relay for Life. But it also serves as a reminder of why we relay in the first place.
Food will be available from College Street Deli and Norvelle's Barbeque throughout the evening, and a number of teams will sell concession stand items; typical baseball park fare with candy and popcorn. There will also be live entertainment throughout the event.
Organizers are particularly excited about the "Midnight Skrym."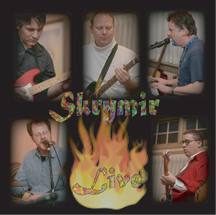 There is a rock band whose members are Wabash faculty or are husbands of women on the faculty. They call themselves "Skrymir" (say screamer) and they play a wide range of music, from Van Morrison to Led Zeppelin to bluesy original tunes.
But, the catch is that you have to stay until midnight to hear the band that includes Stephen Morillo, Patrick Myers, Dan Rogers, Joe Laskowski, and James MacDougall. There's also a rumor floating around that math professor J.D. Phillips, who broke from the band over creative differences, might make an impromptu appearance. But again, just a rumor at this point. Skrymir will begin playing at about 11 p.m.
If you're on a team or just want to stop by to see what the Relay for Life is all about, please take note that parking can be a problem at Wabash when classes are in session. If you live close enough to walk, please do. If you arrive and the two lots adjacent to Knowling Field House behind Little Giant Stadium are full, try parking in the Fine Arts Center parking lot off Grant Avenue. Please be careful not to park on curbs painted yellow; those are tow-away zones.
The Relay for Life is one of the great annual events in Montgomery County. It's the one time each year when we put aside our differences and come together in the fight against cancer. And it really will take all of us if we're going to "hit cancer out of the park!"