Wabash Remembers Han Jiang
by Doug Hunt • March 15, 2006

Share: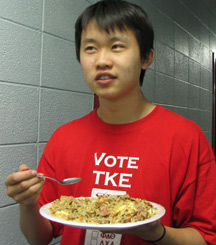 A Wabash College student was remembered as a hard worker, friend and mentor by more than 100 people who attended a gathering Tuesday night in the college's Detchon Center for Han Jiang.
Jiang, a junior from Beijing, China, was a passenger in a car who was killed in a single vehicle traffic accident March 9 on Grant Avenue, just south of Walter Remley Drive.
The crowd consisted of international students, fellow Tau Kappa Epsilon fraternity members, host families and immediate family members.
Bo Jiang, Han's father, extended his appreciation to the crowd for remembering his son. Bo is a former diplomat stationed at the Chinese consulate at Chicago. Han's mother, Ying Huang, works for the Ministry of Education in China.
The Detchon Center International Hall, where the gathering took place, holds special memories for Bo Jiang. He spoke in the same room more than two years ago.
Bo thanked Wabash College for accepting his son as a student. And even though Han will be absent from Wabash, his memory will continue to live, he said.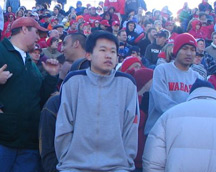 International Students Association president Zuber Ahmed called Han "a great friend and a mentor to all of us. He was a big part of our lives. We are sorry he is gone."
Tau Kappa Epsilon fraternity president Chris Knapp said Han was "my brother in every sense of the word. The circumstances are sad — I will always remember him."
Han was an individual who could adapt to anything and, at the same time, remained humble, Knapp said. "I see a love that this man carried (for others)."
Ken Mattocks' family was the host family for Han when he first came to Wabash. Mattocks remembered an interesting moment when he let Han drive his riding lawnmower.
"I sensed he wanted to try it out and let him drive it," Mattocks said. "Not very long later Han was out of control," he paused and smiled as the memory lingered. "I never saw such creative patterns. He was a wonderful, young man," he said after a brief pause.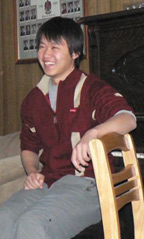 Bronna Utterback got to meet Han through another Wabash Chinese student, Feng Mai, who was also a passenger in the car. When the Mattocks family moved, Han started coming to her house with Mai, she said.

The Utterback family took Han to see a Pacer's basketball game and athletic events her son participated in, as well as her son playing various games with Han while he was at their home. The Utterback's have a five year-old daughter they adopted from China.

The gathering was a good way to remember his life, Utterback said.

Linda Weaver, representing the Wabash Women who organized the gathering, which included food and dessert, was glad to help and support the students in any way possible through this tragic loss.

Jim Amidon, Wabash public information director, praised Han and referred to him as "a man who had no enemies. Everyone liked him."

Doug Hunt is an education reporter with the Crawfordsville Journal Review




For more information see: