Wabash Mourns Han Jiang
by Jim Amidon • March 10, 2006

Share: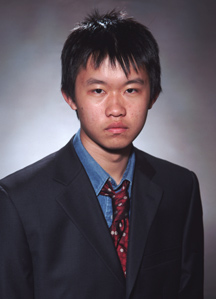 Wabash College is sad to report the loss of Han Jiang, who was killed in an automobile accident Thursday afternoon. Jiang, a junior from Beijing, China, was a passenger in the car driven by his Tau Kappa Epsilon fraternity brother, Benyam Alemneh. Jiang's countryman and fraternity brother, Feng Mai, was also a passenger in the car.
Benyam Alemneh and Feng Mai sustained head and face injuries, and were treated and released at St. Clare Medical Center.
"All of us at Wabash are deeply saddened by the tragic loss of Han Jiang," said Wabash President Andrew T. Ford. "We extend our sympathies to his family in China and to his classmates and fraternity brothers here at Wabash."
Han Jiang graduated from Beijing Experimental High School, one of the strongest magnet schools in all of Beijing. He later attended the No. 2 Medical University in Shanghai for a year prior to his admission to Wabash in the fall of 2003.
At Wabash, Han was a mathematics and physics double major. He was also a member of the International Student Association and was Scholarship Chairman for his fraternity, Tau Kappa Epsilon.
Han was the son of Bo Jiang, a diplomat formerly stationed at the Chinese Consulate in Chicago, and Ying Huang, who works for the Ministry of Education in China.