Glee Club Raises Voice With Morehouse Men
by Howard W. Hewitt • March 6, 2006

Share: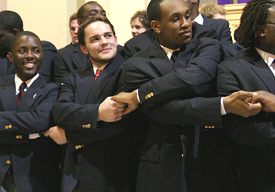 The Wabash College Glee Club kicked off its spring tour by combining voices with the legendary Morehouse College Glee Club Saturday night in Indianapolis.
It marked the first time since 1977 that singers from two of the three remaining all-male colleges had joined voices in song. Both colleges are on spring break and are on tour; the Wabash Glee Club will spend the rest of spring break traveling the midwest. The Morehouse men departed Indianapolis for a concert in Cincinnati.
Saturday night's performance at the North United Methodist Church featured many of the tunes the Wabash Glee Club will sing when it tours the British Isles this summer. The Morehouse Glee Club sang a wide range of music, from traditional to authentic African music, complete with instrumentalists.
The highlight of the evening came when the two glee clubs sang their schools' alma maters, inviting alumni from Wabash and Morehouse to join in song. A tradition at Morehouse is to lock arms while singing the alma mater and, of course, Wabash men joined in the celebration.
Check out photos from the event: