Junior Garrett Pino Heads to Wrestling Nationals
by Brent Harris • March 1, 2006

Share:
Wabash junior Garrett Pino is spending the first weekend of his spring break in Trenton, New Jersey. While it's not one of the top places listed by most college students when planning the normal spring break activities, Pino wouldn't want to be anywhere else.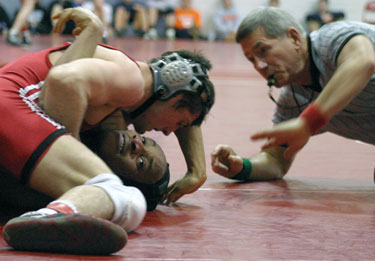 Pino is one of 20 athletes ready to compete at 141 pounds at the 2006 NCAA Division III Wrestling Championships Friday and Saturday at the College of New Jersey. The Lawrence North graduate won the 141-pound title two weeks ago at the Midwest Regional, despite moving up a weight class after recording a season record of 25-8 at 133 pounds. Not only did he move up a weight class to win the regional title, he won despite missing the final tune-up meet the previous week after being diagnosed with walking pneumonia.
Coach Brian Anderson wasn't surprised that Pino had the ability to overcome those obstacles to reach the nationals.
"Garrett has been an excellent leader for us this season," Anderson said. "He's really worked hard to improve after finishing second at regionals last year. He put in a lot of extra time over the summer. He's become more consistent. Last season he would knock off a national qualifier or a returning All-American, only to lose a match he should win the next time he hit the mat. This year he's been focused every single match."
"I believe the biggest change from last season is his confidence. Garrett believes in himself more this year and it has shown with big wins over some of the nation's best wrestlers."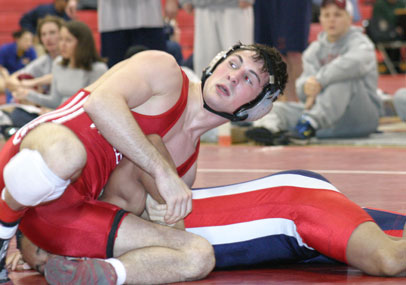 Pino's path to the nationals was just that - focused. Seeded second at 141 pounds, he destroyed Manchester's Joe Lamplot in the first match with a 20-5 technical fall to advance to the semifinals. An 8-2 victory over sixth-seeded Brad Greenman from Case Western Reserve put Pino in the finals against the top-seeded wrestler in the weight class, MacMurray's Chris Kelly. It turned out to be no contest as Pino controlled the match from start to finish, winning 9-1 to earn the trip to New Jersey.

He'll need to keep that same focus this weekend to earn All-American honors in his first nationals competition.

"Garrett will most likely not be seeded since we moved him up to 141 so late in the season," Anderson said. "But he's more than capable of placing in the top eight. He has a slight advantage since most of the 141-pounders haven't seen him this year. The competition won't know what to expect from him. Garrett's style of wrestling can be very dangerous for an opponent. He's very active and pushes the pace of the action when he's out there. He has an arsenal of big moves that can put the best wrestlers in some trouble."

Finishing eighth or higher to earn his first All-American title is what Pino has set his sights on all year. He couldn't think of a better way to start his spring break.

Harris is Wabash College's Sports Information Director. Photos by Jim Amidon and Howard Hewitt.




For more information see: