Wabash Mourns the Loss of Ken Rudolph '05
• February 22, 2006

Share: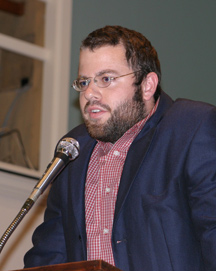 Kenneth Rhys Rudolph, Wabash College class of 2005, died tragically on Tuesday, February 21 at 12:30 a.m. as the result of injuries sustained in an automobile accident.
Ken Rudolph was born in Indianapolis on October 26, 1982 to Rhys and Laura Rudolph; he graduated from Concordia Lutheran High School in 2001 and Wabash College cum laude on May 15, 2005. Ken was a religion major, philosophy minor, and was the editor-in-chief of the Wabash Commentary from 2003 to 2005.
As a student, Ken Rudolph was a good friend to much of the Wabash community. He was a visible and respected leader of campus conservatives and libertarians; the effectiveness of his leadership was due in large part to Ken's natural conviviality. Ken socialized amiably across nearly all sectors of campus; his infectious charm laid a foundation of mutual respect, upon which serious discussion was protected from animosity. Ken enlivened classrooms with thoughtful and needed perspectives; he fostered careful and critical reflection well beyond classroom walls; his fearless penchant for vigorous conversation and inquiry motivated his friends, opponents and the entire campus to join him in thinking about the things that matter most.
As editor of the Commentary, Ken Rudolph contributed substantially both to the goals of the magazine as well as to the intellectual community of Wabash College. As editor-in-chief, Ken dramatically improved the quality and reputation of the magazine by careful attention to its original spirit. As primary organizer of Commentary sponsored events, Ken Rudolph enriched the intellectual life of Wabash College. Almost single-handedly, Ken brought to campus a diverse and impressive slate of visiting lecturers, including Fr. Richard John Neuhaus, Ann Coulter, Governor Mitch Daniels, Jonah Goldberg, Dr. Mike Adams, Lori Borgman, Dr. Paul Griffiths and Dr. Russell Reno. Ken Rudolph's tireless efforts have left a lasting impact on the hearts and minds of the students, faculty and staff of Wabash College.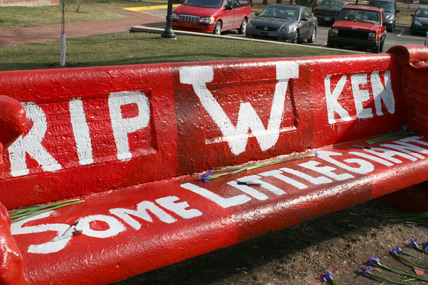 As a man, Ken Rudolph was a devoted son and brother, as well as a loyal, cherished friend. Ken was a thoughtful and trusted confidant, listening patiently, advising prudently, and offering insight with care and candor. Ken's generosity of spirit enriched the lives of many; he was quick to pick-up the tab, slow to anger, and steady in his commitments. Ken loved his college, country, and the community of Christian discipleship. He was a man of deep faith, pursuing the truth in all things, driven by his conviction in the oneness of God. Ken's character reflected the responsibility to make an account of oneself before God. Ken Rudolph conducted himself at all times as a gentleman; his dedication to this rule inspires all who knew him to live up to the example that he leaves behind. He will be deeply missed.
Ken Rudolph is survived by his mother, father and two sisters, Kathryn and Lauren as well as long-time girlfriend Lauren Dinger.
Memorial bequests can be made in Mr. Rudolph's memory to the Kenneth R. Rudolph Scholarship Fund at Wabash College, P.O. Box 352, Crawfordsville, IN 47933. Contributions may be made by phone by calling 877-743-4545.