Dr. Howard Chudacoff Lectures on the Bachelor Sub-culture
by Royce Gregerson '09 • February 22, 2006

Share:
He wakes up and quietly leaves his sleeping quarters, a long, open room with stacked bunks. Others rise with him, others still sleep. After a long week of intense work, shared meals, and physical exhaustion, he spends his weekends bonding with his friends, drinking and commiserating on their bad luck with women. No, he is not a Wabash man. He is a bachelor at the turn of the twentieth century.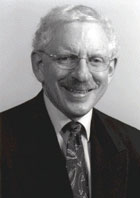 Brown University historian Dr. Howard Chudacoff introduced students and faculty members Feb 21 to the sub-culture of the bachelor around the turn of the century. According to Chudacoff, bachelors from all social classes lived in boarding or lodging houses and often took meals in the house or at eating establishments frequented almost exclusively by men. Bachelors spent their free time in saloons, pool halls, and barber shops. They spent almost every waking moment surrounded almost exclusively by men.
"Every direction [Dr. Chudacoff's] presentation took reminded me of Wabash," said Dan Gillespie '08, himself a Phi Kappa Psi. "He totally mirrored fraternity life and communal living, especially in the way we develop friendships, such as how many of us feel comfortable hugging in public."
Chudacoff began his presentation by analyzing the role models of American bachelors. According to him, upper class bachelors looked up to Theodore Roosevelt as a model of woodsmanship and masculinity. Lower class bachelors esteemed the independence of prize fighter John L. Sullivan.
"He would walk into a saloon and say, 'My name is John Sullivan and I can lick any son of a bitch who is here.' Lower class men of the day wanted to escape the domestic obligations and respectability of the patriarchal family, just like Sullivan," Chudacoff said.
In 1890, 40 percent of men over the age of 15 were bachelors, and two thirds of men aged 15 to 34 were unmarried as well. Rates were even higher among urban males. However, by 1960, only 22 percent of men were unmarried, but the rate is on the rise today.
"The initial statistics began my fascination with the life of the bachelor," Chudacoff said. "I was researching the history of the family, and when I came across those statistics I had to wonder what their affects were on society. With more men remaining bachelors now, I think it's even more important to understand the roots of bachelorhood.
Students connected most, though, with Chudacoff descriptions of bachelor life.
Chudacoff spoke of boarding house residents defining their relationships "like brothers."
"Bachelors established quasi-familial and loving relationships for social support," Chudacoff said. "There were also many instances where older bachelors would introduce younger men in the complexities and intricacies of bachelor life."
In saloons, bachelors, men escaped work and loneliness and defined their manhood and identity. Chudacoff also discussed how frequent attendees of saloons developed nicknames for each other, evoking the familiar concept of fraternity pledge names.
"Bachelors epitomized an independence that threatened their existence," Chudacoff said. "Many people in the greater city felt scared of the bachelor part of town." Afterward, Gillespie noticed how this concept of misunderstood identity mirrors the Wabash environment.
"I know there are many people in the community who don't understand or are even afraid of Wabash," he said. "I think living as a bachelor is a lot like being a Wabash student in Crawfordsville."
Chudacoff also met with students from 10 to 11 Wednesday morning for conversation. Chudacoff's book on the bachelor, The Age of the Bachelor: Creating an American Subculture, was published in 1999.
Chudacoff's appearance was sponsored by the Gender Issues Committee and the Hadley Fund.
Gregerson is a Wabash College freshman and writer for the student newspaper, The Bachelor.