Country's Pat Green to Play Chadwick Court Saturday
• February 20, 2006

Share:
Tickets are now on sale to see rising country star Pat Green Saturday in Chadwick Court.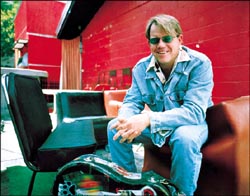 Wabash's second national act will bring an up-and-coming country act which has rocked Nashville and consistently fills huge Texas venues. Pat Green has twice sold out the old Astrodome and regularly fills the huge and legendary Billy Bob's in Fort Worth.
He began his music career while in college at Texas Tech when he was just 18. he put out his first independent record in 1995.
"I started playing guitar to pick up the chicks," Green said in recent record review. "Before that, I only sang in the shower. I could mimic other people's voices. It took me a long time to find my own voice, but once I did, I became very comfortable with it.
"Natalie Maines from the Dixie Chicks sang on our first record and she wasn't a Dixie Chick yet. It was pretty cool. Since then we've recorded five more records including one duet record with Cory Morrow, which charted on the Billboard country chart."
Green has consistently toured college campuses.
"When I was 18 to about 25 years old, I wrote what an 18- to 25-year-old person thought and felt," the 33-year old Green said. "I loved being from Texas, I loved drinking beer, I really enjoyed the wilder side of my life. Now, I'm married; I've got a kid. The reason I think things are not as much about road-tripping and swilling beer is because I'm not road-tripping as much or swilling as much beer."
His career has raised some eyes in the Nashville music establishment. His single "Three Days" was nominated for a Grammy for best country song. The recording barely cracked the Country Top 40.
Esquire magazine said Green "sounds like a young John Mellencamp playing a Delta house kegger."
For this concert, students will only need to present their valid college ID at the door for admission.