Indianapolis Housing Advocate is IAWM Man of the Year
by Steve Charles • February 20, 2006

Share: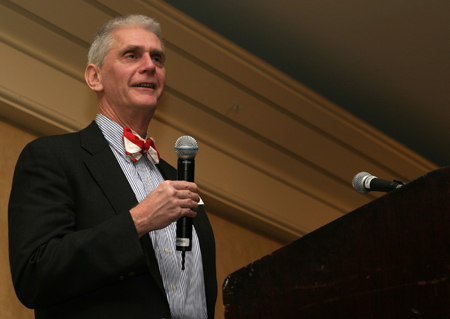 Indianapolis Association of Wabash Men President David Waldman '93 began Saturday's ceremony celebrating the group's Man of the Year (see photo album) with a discussion of heroes.

"People you'd never expect can be heroes," Waldman said. "The bus driver who makes sure the kids get to school safely; the teachers watching over them at recess. In our society, where athletes and celebrities are so often in the limelight, we sometimes forget who the real heroes are."

Then John Bridge '72 introduced the audience to one: IAWM Man of the Year Frank Hagaman '72, who as founder of Partners in Housing, has championed the rights and well-being of thousands of hundreds of homeless and disadvantaged people in central Indiana.

"Mary Stewart, a prominent Indianapolis social worker, once told me that Frank Hagaman has done more for housing for the poor in Indianapolis than any other person," Bridge said.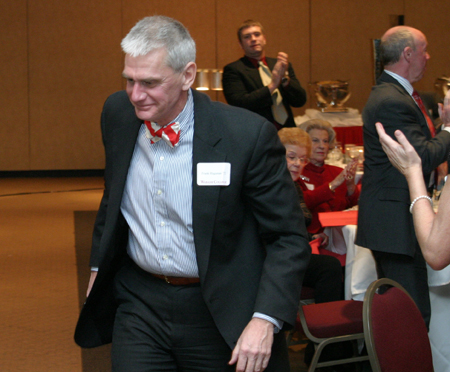 Delivering remarks written by Professor of Classics Emeritus John Fischer, who was unable to attend in person, Bridge described Hagaman's years as a student at Wabash and member of Lambda Chi Alpha fraternity. Returning to his native Connecticut after graduation, Hagaman became a successful banker in Hartford, where he also chaired the Connecticut Housing Investment Fund and got a taste of the type of work that would become his vocation.

With his passion for providing affordable housing growing year by year, Hagaman returned to Indiana in 1992 as "a reformed banker" with a mission to create affordable housing.

"Frank has always been a man of vision," Bridge said, "and his vision for helping the homeless and people with AIDS came together with his creation of Partners in Housing development corporation, whose mission is 'to create affordable non-discriminatory housing for individuals with special needs.'

"The serendipitous combination of Frank's passion, financial acumen, and drive, has resulted 14 years later in a strengthened program of affordable housing for the less fortunate in Indianapolis," Bridge said. "He has assembled more than $238 million to fund innovative programs that reach out to the homeless and those in need. His creation has become a model for other cities, and Frank often consults elsewhere to share his expertise and drive with others."

PIA now provides more than 350 housing units in projects that include the Burton Apartments, the Blue Triangle Residence Hall, Mozingo Place, Colonial Park, Linwood Manor, Guerin Place, and Park Place.

In addition to founding PIA, Hagaman was a founding board member of The Neighborhood Self-Employment Initiative, whose mission is to strengthen inner city neighborhoods by providing education, training, and assistance to entrepreneurs. He wrote the property plan for Indiana's first federal award for housing opportunities for people with AIDS, and he is a founding board member of The Coalition for Homelessness Intervention and Prevention of Greater Indianapolis. A member of the Mayor's Housing Task Force, Hagaman serves on the board of Second Helpings, a food rescue, job training and hunger relief organization serving greater Indianapolis.

"Frank Hagaman personifies the graduate envisioned by Caleb Mills [the College's first professor] who saw Wabash as a College 'devoted to the public's interest at the highest possible level," Bridge said.

Accepting the award following a standing ovation from the IAWM and guests, Hagaman humorously recalled the last "honor" he received at Wabash. As the proud president of his pledge class at Lambda Chi Alpha, Hagaman had been given a toilet seat and tin foil crown-the "King Louie" Award.
"It was a way of reminding me that I wasn't really as big a deal as I thought I was," Hagaman said — that what matters was being part of something larger and more important than one's self.
"Today, I consider myself to be among the very fortunate and very privileged people that can achieve, can have a vision, and have been taught, very appropriately, to be dedicated to the work of the community," the housing advocate said. "And I carry the truth behind that King Louie award with me in the work I do every day. We work on behalf of people who do not have a voice, who are very low income, and who need someone to work on their behalf.
"This is a tremendous award. And I am humbled to receive it."
Photo album II from the IAWM Valentine's Day Dinner.
More about Frank Hagaman in Wabash Magazine.