Alumni Panel Discusses Religion's Role in Government
by Jeremy Sexton '07 • February 17, 2006

Share:
With religion, government, and politics mixing more frequently in contemporary society, what is the proper role of religion in public life?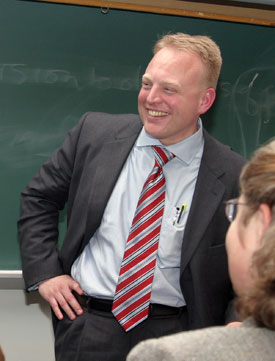 The Wabash Commentary sponsored a panel that discussed the proper role of and the relationship between religion and government Thursday February 16, 2006.
The panel featured Tom Fisher '91, Solicitor General of Indiana, Mark Rutherford '82, Chairman of the Indiana State Libertarian Party, and Dr. Stephen Webb, professor of Religion and Philosophy at Wabash College.
"Government and religion do not mix well," Rutherford said. "And because of this it creates gray areas. As libertarians, we feel that when the government becomes too involved they end up sticking their nose in places where it does not belong, such as religion."
Fisher alluded to previous court cases such as prayer in public schools and the Ten Commandments in front of governmental buildings to argue his point of the government's role in religious establishment.
"The majority of our country's religious freedoms depends upon the role of federalism and the limits of what Congress can and cannot do," Fisher said.
The government cannot discriminate against specific religions. However it is not required to accommodate although it is within its power. For example, moment(s) of silence can be held in public schools, but they cannot insinuate that they are specifically for prayer. No prayer may be offered at public high school graduations, but they can be at public university graduations. That is because college students are less impressionable than high school students.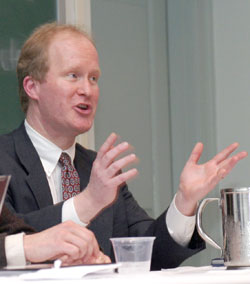 "Whatever the government's decision is regarding religion is it establishing religion," Fisher asked. "The role of the courts is to resolve disputes."
Rutherford went on to offer more comment on the libertarian standpoint of government involvement concerning religion.
"The less the government gets involved, the fewer problems we are going to face regarding religion."
"I learned to think outside of the box here at Wabash," Rutherford said about his Wabash experience. "I had the freedom to think and engage, the right to be wrong or right. That's the kind of environment we as libertarians want to create."
Religion and Philosophy Professor Bill Placher was among those attending and thought the forum served an education purpose. "This is a good method to get the issues out in an interesting way," he said.
Sexton is a Wabash College junior and English major.
In photos:
Top right: Fisher shares a laugh after the panel discussion.
Bottom left: Rutherford makes a point during the presentation.
On homepage: Fisher, Webb, Rutherford listen to a question from the audience