Organist Craig Cramer to Give Recital at Wabash
• February 10, 2006

Share: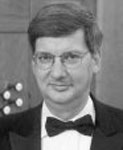 The Music Department at Wabash College will present the eighth annual Roger H. Ide Organ Recital on Sunday afternoon, February 12 at 3:00 p.m. in the Wabash College Chapel. This year's recital will be played by Craig Cramer.
Craig Cramer is Professor of Organ and Artist-in-Residence at the University of Notre Dame. He has performed in 42 of the United States as well as in Canada; his annual European concert tours have taken him to Austria, Belgium, The Czech Republic, England, France, Germany, Luxembourg, Poland, Scotland, and Switzerland. He is frequently invited to play some of the most important historic organs in the world.
The concert is free and open to the public.