Calling Chadwick Crazies: Wabash Hosts Earlham Tonight!
by Matt Wilson, Journal Review • February 8, 2006

Share: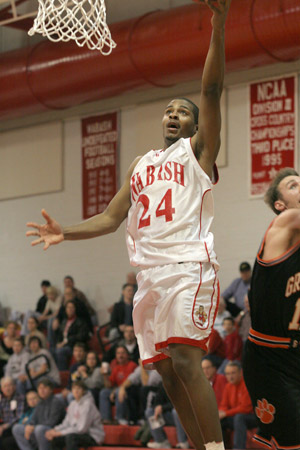 Wabash College basketball players know the situation they are faced with when Earlham comes to Chadwick Court for today's 7:30 p.m. tipoff.
The Little Giants and Earlham are tied for the fourth spot in the North Coast Athletic Conference standings, each having 7-5 marks. The top four teams at the end of the regular season get to host an opening-round game in the NCAC Tournament set to begin Feb. 21.
Wabash has hosted first-round home games five of the six years it has been in the NCAC.
"This situation is always big because of the time of the year it is," Wabash coach Mac Petty said. "The biggest thing is do you want to play here on the 21st or do you want to go on the road on the 21st."
Tonight's game plays a more vital role because of the remaining contests on Wabash's schedule. Following Earlham, the Little Giants have three conference games remaining. Two of those are against the top teams in the conference — Wittenberg and Wooster. The Quakers already have had their two meetings with Wittenberg and Wooster and have two of their final three games at home.
Earlham's offense averages 71.1 points and Petty said the Quakers thrive on isolation 1-on-1 plays. To combat that, Petty said the Little Giants have to get to know the tendencies of Earlham's players and be ready to help on driving situations.
The Quakers reached their offensive average in the first meeting with the Little Giants, winning 71-59 at Richmond. Earlham went into halftime with a 33-31 lead and shot 62 percent en route to outscoring the Little Giants 38-28 in the second half. Brandon Miller led the way with his double-double effort of 22 points and 12 rebounds.
Wabash, on the other hand, couldn't find its shooting touch. The Little Giants finished 5-for-18 (28 percent) from 3-point range, including 1-for-8 (13 percent) in the second half. Guards Adonis Joseph (pictured above right) and Kyle Medeiros combined to go 2-for-11 from beyond the arc. The Little Giants also had just one assist in their third conference loss of the season.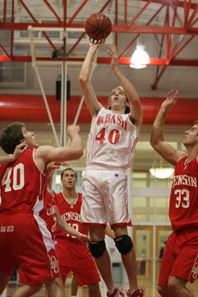 "I just want them to go out there and play the game they are capable of playing," Petty said. "We just didn't play well when we went over there. They can't be shooting 61 percent from the field."
Led by Miller's 16.9 points, Earlham has three players averaging in double figures. LaRon Henry averages 15.2 points and Markous Jewett is scoring 14.2 points per game. In conference games only, Miller is second in the league by averaging 18.8 points and 9.3 rebounds. Out of Miller's 111 rebounds, 45 of those have been offensive.
"He is averaging about four offensive rebounds a game in conference, so a lot of his points are coming off putbacks," Petty said. "We just have to find a way to keep him off the offensive glass."
Both teams enter tonight coming off victories. The Quakers snapped a three-game losing streak with a 70-60 win over Kenyon Saturday. Wabash won its third conference game in five contests, picking up a 92-80 win over Denison. Joseph shot 10-for-17 from the field to finish with a career-high 35 points. The Mishawaka native hit seven 3-pointers and was 8-for-8 from the foul line. With his effort, Joseph upped his average to 11 points a game.
"That was just a game where he took good rhythm shots and he just got in a zone," Petty said. "He also played hard defensively and that made him play better offensively."
Medeiros leads the Little Giants with his average of 12.4 points per game. Gary Simkus (pictured above left) had 16 points in the win over Denison.
Tonight will be the second-to-last home game for Wabash. The Little Giants host Wittenberg on Feb. 15.
"I just hope the fans come out and show their support," Petty said. "We have had fantastic support so far and I would like to see that again tonight."
In other conference games tonight, Oberlin plays at Allegheny, Denison plays at Kenyon, Hiram plays at Wooster and Ohio Wesleyan hosts Wittenberg.
Matt Wilson is the sports editor of the Crawfordsville Journal Review.