Extending a Legacy
• February 3, 2006

Share: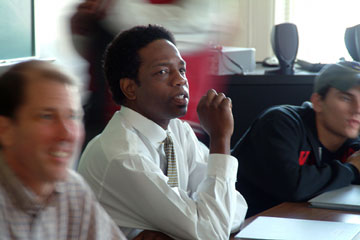 Owen Duston Visiting Professor of English Tim Lake has been appointed assistant professor of English and Director of the Malcolm X Institute of Black Studies, President Andy Ford announced November 15.
Lake will carry on the legacy of Horace Turner. Turner has served as the MXI's executive director since its founding 35 years ago and announced his retirement late last summer.
"The Malcolm X Institute has a grand legacy and tradition, and I am honored to be invited to share in this legacy and, to the degree possible, extend it," Professor Lake said after hearing of his appointment. "One of the ways that I think we can build upon the work of the past 35 years is to bring the suffix portion of its moniker—"Black Studies"—into fruition. I believe that we can make the Malcolm X Institute of Black Studies an integral component of the academic, administrative, and social character of Wabash College."
"Tim's vision for the MXIBS has captured the imagination of students, faculty, and staff," President Ford added. "Under his direction, and with support and commitment from the College, the MXIBS will increase opportunities for our students while sharpening its traditional role as a cultural and social center."
Professor Lake will assume his new responsibilities on July 1, 2006.
Read more Faculty Profiles.