Presentation Expert Helps Students Improve Skills
by Howard W. Hewitt • January 26, 2006

Share: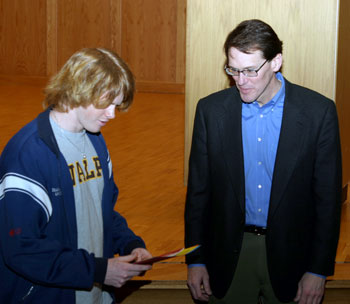 The fear of public speaking has often topped the list of things most people fear most. Yet Tim Koegel, a nationally-recognized expert in strengthening presentation skills, believes everyone does public speaking every day.
"Any time you open your mouth to speak, you are a public speaker," he told a group of nearly 100 Wabash students Jan. 26 in Salter Hall. "I want you to think about how the skills you'll learn here tonight can affect your career."
Koegel, a University of Notre Dame graduate and author, has trained politicians, world leaders, CEOs, executives, and sales professionals all around the country. His appearance was sponsored by the Student to Alumni Program which hopes to create ways current Wabash students become great College alumni.
With a fast-paced mixture of practical and useful skills, a dead-on Bill Clinton impersonation, and considerable wit, Koegel led the students through exercises and urged them to practice the skills to be better presenters in job interview situations, at the front of the classroom, and in all life situations where they're being judge by their words.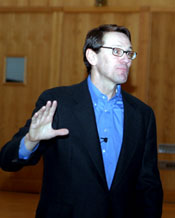 He talked about the importance of body language and gestures. Koegel brought the students to their feet and put them through 10 minutes of gestures and exercises to speak just not with their words but with their actions.
Koegel offered them advice on enthusiasm, energy, eye contact and the way they use their voice to be effective in all communication situations. Near the end of the presentation he told the students research has shown non-verbal actions such as body language and gestures has a bigger impact on others than the actual spoken word.
"He just seemed to be very knowledgeable" John Moore '08 said. "Everything he said he not only demonstrated, but gave real-live examples that will clearly work in the real world. And he's an entertaining guy, very funny too, and I really enjoyed it."
Hewitt is Wabash College's Web Editor.
In Photos:
Above right: Koegel with Moore '08 after the program.
On homepage: Koegel has students up during the program practicing gesturing.