Student Career Development Program Being Developed
by Jeremy Sexton • January 25, 2006

Share:
A new program is being developed at Wabash College as part of the New Strategic Plan. "The Student to Alumni Program hopes to facilitate ways current Wabash students become great Alumni of the College," Mike Warren, Associate Director of Alumni Affairs, said.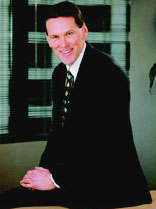 The plan encompasses three years and begins with the first semester of the sophomore year. The program is planned to provide opportunities that introduce students to the privileges and responsibilities while also providing learning opportunities at a time that is most beneficial to student development.
The plan is on track to be implemented starting next fall. The committee plans on hosting one event each semester over the next three years. The events span a wide variety of interest such as welcome-back dinners with guest alumni speakers, dinner with the Board of Trustees and National Association of Wabash Men (NAWM), and a "Real World 101" seminar for Seniors which covers aspects of life development such as health care, 401k and other retirement plans.
"We are doing it in a way that is not just people standing up and preaching the expectations of Alumni, but rather we are giving students a learning opportunity in a fun way," said Scott Crawford, Director of Schroeder Career Center.
The program offers ways in which students and alumni can come together to develop networking connections, finding professional opportunities for graduates, and strengthen the greater Wabash Community.
"The Student to Alumni Program is intended to help graduates adjust and prepare themselves to life after Wabash," Warren said.
To kick off the program, the Student to Alumni committee is bringing Tim Koegel for a presentation and workshop to be held at 7 p.m., Thursday, in Salter Hall. Koegel specializes in strengthening the presentation, media relations, and communication skills of CEOs, world leaders, and business executives, managers and sales professionals.
Koegel is a University of Notre Dame graduate who has worked with members of the U.S. House and Senate, White House staff, Department of Labor, Office of Civil Rights, The EPA, and other governmental agencies.
The Student to Alumni Program has been created on behalf of the Dean of Students Office (Mike Raters), Alumni and Parent Relations (Tom Runge and Mike Warren), Annual Fund and Sons of Wabash (Joe Klen and Roger Busch), and Schroeder Career Center (Scott Crawford and Stephanie Hopkins).
Sexton is a Wabash College junior and English major.