Lincoln Papers Project Editors Digitize College Documents
by Howard W. Hewitt • January 17, 2006

Share: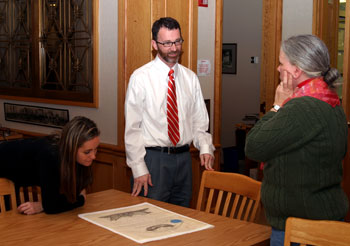 A name scratched on a piece of paper or beautifully scripted onto a legal document has long been valued by collectors and historians. But few signatures carry the value and weight like a presidential signing. And few presidential signatures carry more value and historical significance than Abraham Lincoln's name and documents.
Representatives of the Papers of Abraham Lincoln, Springfield, Ill., visited campus Jan. 17 to digitize copies of two Lincoln-signed officers' commissioners held by the Wabash College Archives.
"What we're trying to do is locate and image all the letters to and from Abraham Lincoln during his lifetime," explained John Lupton, associate director of the project. "At some point in the future, we hope to make them freely available online."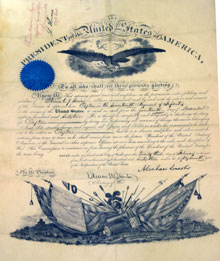 Wabash has two documents, one in a bit better shape than the other. Both are signed by Lincoln and his War Secretary Edwin Stanton. The better of the two documents was commissioning Thomas C.J. Bailey as a captain in the 17th Regiment of Infantry. It was signed Feb. 23, 1863.
"These are very nice looking signatures of commissions," Lupton said. "Even though we don't know this as a fact, we imagine that someone would come into Lincoln's office, a secretary perhaps, with a big stack of these and he'd just sign them for awhile. That's one of the things we hope to find out in collecting these."
The project began with 5,300 letters to libraries and document repositories across the country. Lupton said more than 60 percent responded to the survey but only a few had documents. But Lincoln's reach was considerable. Documents have been found in virtually every state including Hawaii.
Wabash College Archivist Beth Swift is not sure how the college acquired the two documents. Thomas C.J. Bailey is not listed as a Wabash College student or graduate in the archives records, but a Charles Bailey, 1860-61, is listed as a student who served in the Civil War. Swift would enjoy hearing from anyone who has additional information about the Bailey family.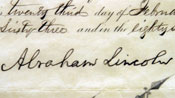 The documents are not currently on display but kept with other historical papers. There is considerable value to a Lincoln signature. Lupton said just Lincoln's autograph will sell for $5,000-$6,000 at a collectors auction. The commission papers like Wabash has probably are worth $10,000-$20,000 depending on the identification of the soldiers.
Hewitt is Wabash College's Director of New Media/Web Editor.
In photos:
Top right: Assistant Editor Stacy Pratt McDermott looks at the signed document. Lupton is talking with archivist Beth Swift.
At left: A photo of the Bailey Commission.
Bottom right: Lincoln's signature on the Bailey Commission
Faculty Homepage: Lupton examines the Lincoln signature and declares it authentic.