Former King Associate Pastor Urges a 'Committed Life'
by Howard W. Hewitt • January 16, 2006

Share:
Dr. Calvin Sylvester Morris brought a life of scholarship, commitment, service, and experience to share at Wabash College Monday night. Morris, speaking on Dr. Martin Luther King Day, urged students to live a committed life.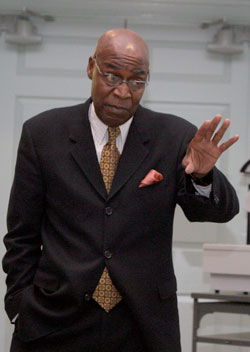 Morris' lifetime of experience includes three years as an associate pastor at the Ebenezer Baptist Church in Atlanta, Ga., from 1973-1976. That was the church were Dr. King served as pastor during his lifetime. He worked for the Southern Christian Leadership Conference, The King Center, taught at Howard University, and currently leads Chicago's Community Renewal Society.
"There is something about being an historical icon that pretties up historical figures," he began. "Dr. King is remembered as a nice guy, did some nice things and he happened to be killed. But he was a most controversial figure in his life, particularly in his final years."
Morris recalled King's opposition to the Vietnam War, his leadership of civil disobedience and his loud voice for economic injustice.
"The relationship between Dr. King and volunteerism is significant," Morris said. "It is a kind of commitment that exposes itself in a willingness to give one's whole self on behalf of others even if the end result is in one's own death."
He recalled meeting Dr. King through a friendship he established with Rev. Jesse Jackson. King questioned the young Morris about his life and times at Boston University where both men earned doctorate degrees.
"What I appreciated about him was the fact he didn't have any sense of being into himself. He could engage a brand new young staffer and get my answers and insights."
Morris said King should not be an iconic figure but remembered as a man who led a committed life – but also as a man who liked nice suits, who gave his salary and honoraria to the Southern Leadership Conference. And, Morris added, he was a man who loved to eat.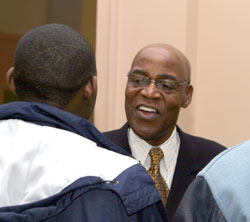 He described King as a committed man but not one who lived in isolation. "People must remember Miss Rosa Parks is the one who sat down," he said. Then the elder black church leaders called on a young unproven King, fresh from Boston U., to join the Montgomery, Alabama, bus protest
"Let us not make an icon of Dr. Martin Luther King; he was human like you and me.
"If Dr. King were alive today he'd speak to the differences between those who have and have not," Morris said, answering one of many questions following his prepared remarks. "We have a Congress who will spend money on all kinds of things and cut $50 billion out of all kinds of things like education and health care.
"It's a strange time to live in America. The legacy of Dr. King's committed life for us is the willingness to heed the call of service and to come out of self long enough that other people become the center or our own concern."
Morris spoke to nearly 75 students, faculty, staff and visitors for nearly an hour then fielded questions before a reception. His appearance was made possible by the Malcolm X Institute, Multi-Cultural Studies Committee, and the Hadley Fund.