Colston Anxious to Get Students Involved in Athletic Training
by Howard W. Hewitt • January 13, 2006

Share:
While injury often ends an athletic career, an injury got Mark Colston's career started.
Colston, who became Wabash College's head athletic trainer Jan. 1, learned he had a congenital leg injury when he was 12 years old. He has a condition where the ball of the femur dies and regenerates repeatedly. The youthful soccer player quickly had to give up sports even before reaching his teens.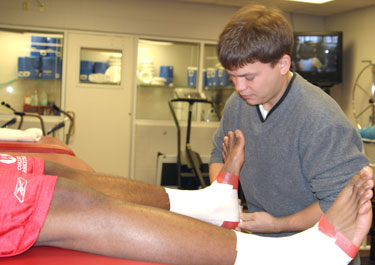 "That's when I got introduced to athletic training," the personable Colston said. "I went through rehab with the athletic trainer and got to know him real well. He opened me up to the world of athletic training and the sports medicine side. I was able to still be involved in sports. I helped out with football, basketball, and baseball in high school."

That same high school trainer pointed Colston to Eastern Illinois University, Charleston, for his education. Colston got a degree in physical education with an option in athletic training and minored in health science. His 2002 EIU masters degree is in physical education specializing in sports administration.
He garnered diverse and interesting experience while finishing his education. Colston worked as a trainer for the Richmond Roosters, an Indiana professional baseball team, in the summer of 2000. Then while finishing his master's degree he was a graduate assistant at Lake Land College in Matoon, Ill. After graduation he joined the staff at Reid Hospital in Richmond, Indiana, before coming to Wabash College in August of 2002.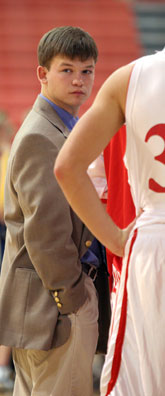 "I wanted to be in a college setting," Colston said. "I wanted to develop a program and eventually teach."
The Sherman, Ill., native was promoted to head trainer following long-time trainer Jack Mansfield's resignation. Mansfield accepted a position with Lincoln Memorial University in Tennessee.
During his time working with Mansfield, Colston served as primary trainer to soccer, basketball and baseball. Both trainers share other sports and helped each other out as needed.
Colston said his greatest enjoyment comes during the rehabilitation process. "I don't like to see athletes get injured," he said, "but being able to evaluate them, take them to the doctor if they need that type of diagnosis, and taking them through rehab and seeing that light click when they return back to competition is really cool."
The youthful looking Colston also loves to travel. "I love to be with people," he said. "I'm a very social person."
He admits the "baby face," as he calls it, leads to plenty of teasing and the occasional awkward situation. But, for the record, he has a wife and two children and he was born in 1979.
His youth and youthful appearance can be an asset. "I relate to the kids very well, I think. They'll come to me with a lot of issues other than an injury. It might be family or relationship issues, a few social things."
He might see 30-50 people a day for his services. The athletic training department is open to any member of the Wabash Community. He adds there are always athletes in some sort of rehabilitation regardless of the season.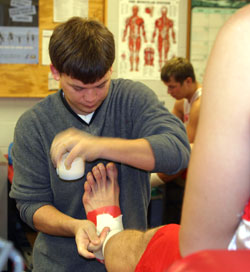 And he's noticed there are some commonalities in what he sees.
"Mostly, shoulders and ankles," he said, when asked about the most frequent injuries. "We have a lot of over-use issues with our shoulders. It's often freshmen and sophomores who weren't trained properly in high school or were trained properly but didn't understand what all to do or didn't agree with their coaches. Then they do things on their own and come up with an over-use problem with their shoulders."
One of his primary goals is to get more Wabash students involved in athletic training. He has students working for him now and will be conducting classes to give basic training to new ones interested.
Hewitt is Wabash College's Director of New Media/Web Editor.
In photos:
Top right and lower right: Colston goes through pre-practice ritual of taping up ankles.
Center left: Colston can be found at Little Giant basketball games near the huddle or sitting beside head coach Mac Petty.