Their Biggest Test Not On The Courts
by Wade Coggeshall • January 9, 2006

Share:
It's mostly shrouded in mystery. It can cause the most stoic of young men to break into a cold sweat. It's often a topic of discussion among freshmen, four years prior to its occurrence.
It's comprehensive exams, and every Wabash College student has to pass (or endure, as the case may be) them to get that coveted diploma.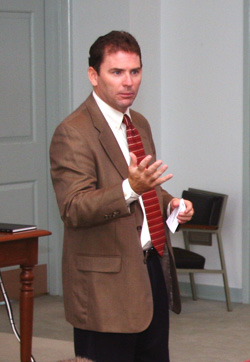 Seniors take the written exam, which tests them over all four years on their major, early this week. Some students have been back on campus since shortly after Christmas boning up on their knowledge, even though the second semester doesn't start until Wednesday. And after two grueling days, the fun has only begun. Seniors must take an oral exam beginning Jan. 30. In it they're grilled by a professor from their major, one from their minor and an at-large professor. No topic is off-limits, and you'd better be prepared.
"It is a rite of passage, if you will, that clearly puts a stamp of approval on their education," Mike Raters, Wabash's associate dean of students, said of the exit exams. "If they've passed, I see a big weight lifted off their shoulders. For those who don't pass, I see just the opposite. I see an enormous weight coming further down upon their shoulders and a much greater sense of urgency to be sure they succeed when they retake the exam. They don't want to come this far and not make it."
Raters knows the importance and stress well. As a member of the Wabash Class of 1985, he went through the process himself.
"I didn't have much of an appreciation for how intense they were," he said. "Therefore I quite honestly went in under-prepared and didn't do as well as I would've liked. I had friends of mine who did exceptionally well and some friends who did not pass the first time. So I was able to experience, through watching them, both ends of the spectrum as far as elation and depression."
The fact Wabash is one of the few colleges to require passing such a test to graduate only adds to its reconditeness.
"That in and of itself adds some intensity and anxiousness on the part of the students," Raters said. "It's not like on Christmas break they can contact their buddies at home and ask what comps are like."
So if there's that much riding on this academic assessment, imagine how the student-athletes feel — who have games to play and practices to make in between studying.
Take the seniors on the Little Giants basketball team. Along with studying for the exams, they also had three basketball games last week. Wabash had morning and afternoon practices throughout winter break until last Wednesday, when it had only an afternoon practice. Following Tuesday's victory over Greenville, the seniors hit the books.
Wabash completed its busy week with a win Saturday over Hiram. Mac Petty, who is in his 30th season at the Little Giant helm, said all the previous senior classes have had no trouble balancing studying and basketball.
"It has been this way for the 30 years I've been here and the players have always found a way to get their studies done," Petty said "Even though they are not in school, they know what they have to do and when they can study."
Senior players Caleb Lyttle, Kyle Medeiros, Michael Woods and Adonis Joseph and managers Ian McGriff and Nate Eakins all are history majors. The history exam is one test broken up into two days. Kyle Coffey is a religion major. Jimmy Owens, who is injured, is an economics major.
Whether it was night, afternoon or morning, the seniors have found time to hit the books. Lyttle and Medeiros, who are both members of Phi Delta Theta fraternity, took advantage of the no-Wednesday morning practice to go to the library.
Lyttle said it helped that all the senior basketball players remained on campus during the break.
"That (finding time to study) has been one of the toughest things. We just all get together as a group and prepare the best we can," he said.
Raters imparted the usual advice for such an undertaking.
"I would advise seniors to balance their studies with physical activity, eating right, getting enough sleep," he said. "You can't just study all the time. You won't be as healthy and sharp. The advice I'd give to underclassmen is to bend the seniors' ears as they return to campus so that they're prepared for the intensity."

Coggeshall is a reporter for the Crawfordsville Journal Review. Journal Review reporter Matt Wilson also contributed to this story.
In photo: Associate Dean Mike Raters.